18 top tips for planning an outdoor wedding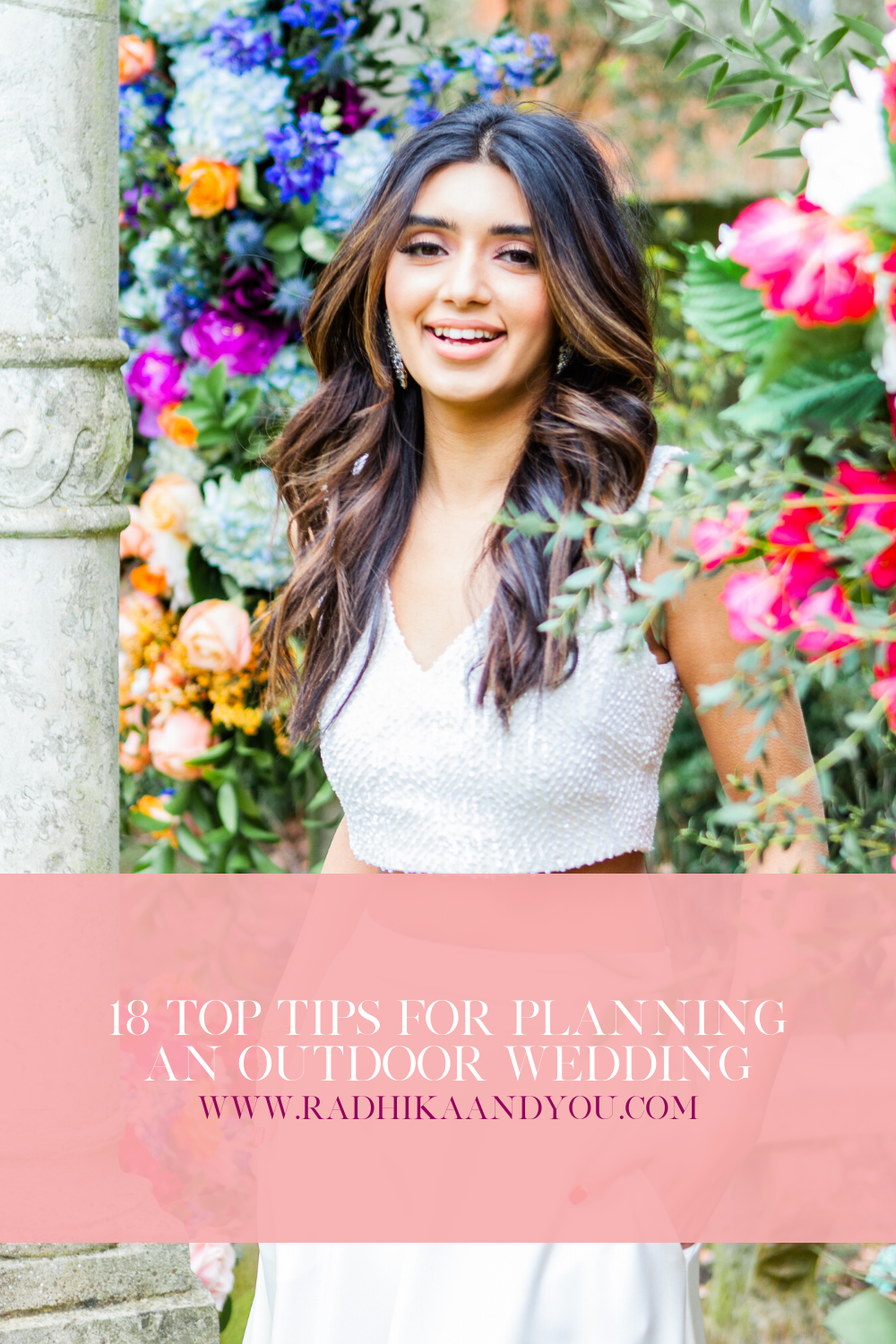 With ceremonies slowly starting to take place across the UK and abroad, many couples are opting for an intimate wedding and some of which that are outdoors.
The beauty of an outdoor ceremony means that it allows guests the comfort when attending that the ceremony won't be in a confined space and that they will be outdoors breathing in the fresher air. As well as that, an outdoor ceremony gives you the feel that you are abroad at a destination wedding.
We have put together 18 tips for planning for an outdoor ceremony below:
1. There are so many options to consider in terms of settings – whether it's your garden, a secret garden or a woodland, you can create a wonderful whimsical setting for your intimate celebration.
2. If you are unsure about doing an outdoor ceremony, try and incorporate the outdoors for other parts of the event such as photographs or your drinks and canapes.
3. So in the UK your ceremony has to currently take place under a fixed shelter such as a gazebo, bandstand and beach hut, which is licensed. So create that as your focal point for your big day with the florals and decor if it is outdoors. You may even find that your venue has a stunning natural backdrop which can be used for your ceremony if it is a symbolic, cultural or religious.
4. The weather is something out of our control and therefore you need to consider what you will do if it rains? It is important to have a Plan B in place. So, a marquee/gazebo structure or using a venue's indoor spaces could be a couple of the options available.
5. On the flip side to the above, there is a likely chance it may be too hot so consider having fans and bottles of water on each chair or even parasols that guests can use if they wish.
6. Embrace the outdoors and have your post ceremony shoot outdoors!
7. Consider footwear for yourself as a couple and also your guests. You don't want to wear the highest heels on grass and not be able to walk. Also, you may wish to consider bridal flats or even some stylish personalised converses!
8 Use the natural settings around you outdoors to lead your design and styling for the wedding. So incorporate natural textures and materials such as flowers, greenery, wood and drapes to create a beautiful setting for your special day.
9. There may be restrictions in place where you are planning on hosting an outdoor ceremony, so check what can and cannot be done.
10. Get creative with the set up of your event outdoors – different layouts with the chairs or your aisleway for example can really create a wow-factor visually for your guests.
11. Take advantage of natural structures in place – such as trees, rocks and create a local point around it – so a welcome display, a hanging feature or even your ceremony.
12. If you are dining outdoors and opting for alfresco dining vibes, in the evenings it can often become chilly so have some blankets in place for guests to use should they wish.
13. Instead of a traditional dining format such as a plated service or buffet, why not opt for a live cooking stations or food trucks which look cool and fun, and also allows guests to be served as and when they are ready to eat. There are so many options available depending on the food you love the most.
14. Consider your music and sound for the ceremony and dinner. You will most likely need a sound system depending on how many guests are at your event. you will need to think about speakers and microphones and who will be managing this for you? Will you have a DJ?
15. Live stream your ceremony for your extended family and friends to enjoy your special day with you online!
16. Depending upon when your wedding will take place, before the day, communicate with your guests on safety measures, social distancing and any other things your venue may have enforced for safety. This will put your guests mind at ease for the day itself.
17. Remember to have a sanitation station with wipes, masks and sanitiser gel for guests to use when they require.
18. And, finally (finally)… Relax and enjoy your special day!
ARE YOU CURRENTLY IN THE PROCESS OF PLANNING YOUR WEDDING? ARE YOU UNSURE OF HOW TO PROGRESS YOUR PLANS DURING THESE CURRENT TIMES? WHY NOT SCHEDULE IN A COMPLIMENTARY CONSULTATION WITH US. LET'S SEE HOW WE CAN HELP YOU BEST!