10 top tips on planning an intimate wedding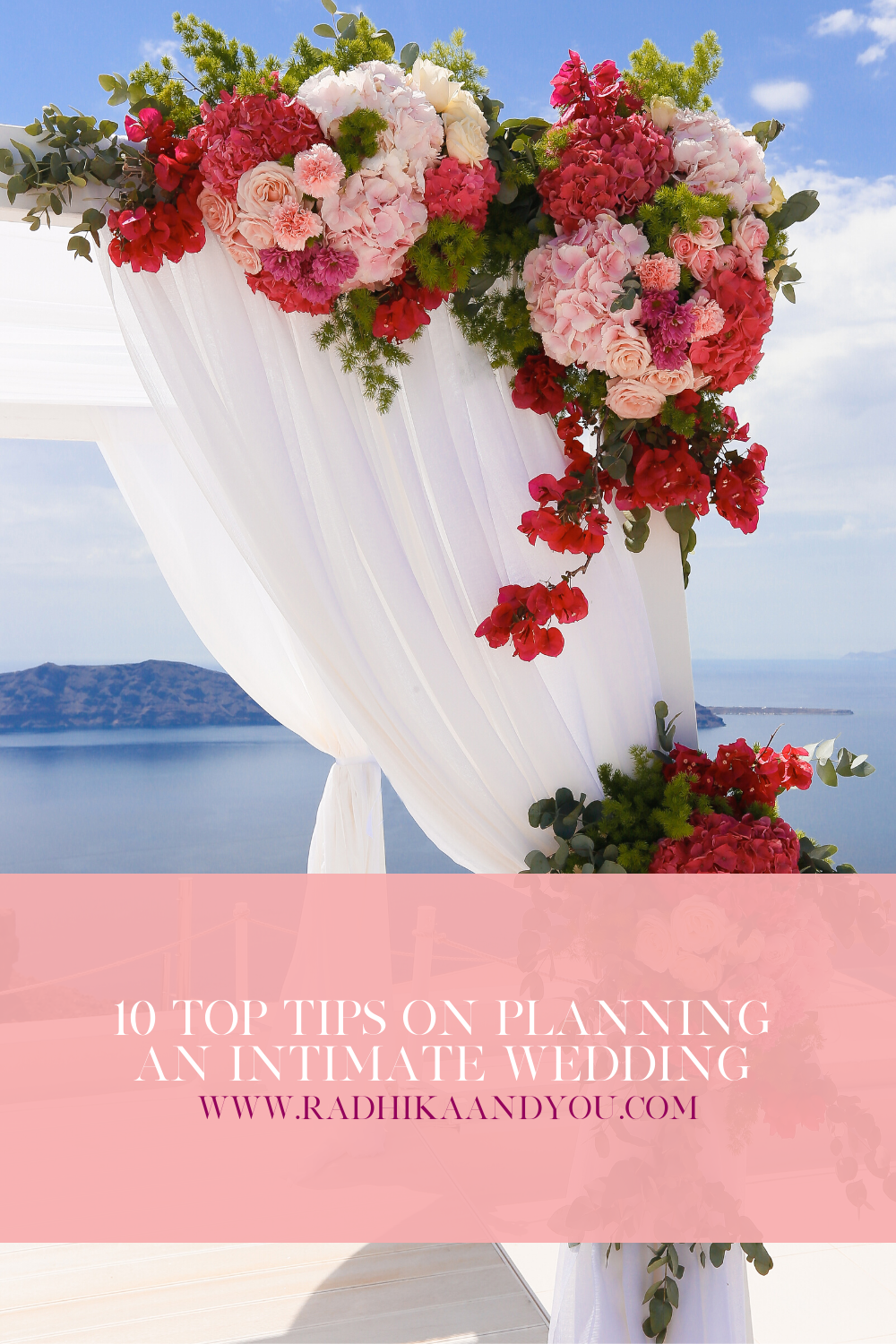 The UK Government has recently announced on 23 June 2020, that from 4 July 2020 weddings of up to 30 guests at places of worship with be allowed in England. Over the coming weeks we are hopeful further guidance on intimate weddings will be shared and if these smaller weddings will be able to take place in wedding venues too!
So, we have put together our 10 top tips on planning an intimate wedding in the UK…
1. Embrace your numbers – Rather than opting for a large venue and opting for a small ceremony room there, choose a venue that compliments your smaller guest numbers. The choices are endless from luxe boutique hotels, manor houses, barn style venues or even opting for an outdoor wedding and the list continues!
2. Review your budget – As your numbers may have changed from your original plans, spend some time reassessing your budget plans. This may now mean that there is more budget to allocate towards your décor and production for example and those extra details that you had to put on hold. Intimate numbers definitely mean you can focus more on the details of the wedding.
3. Outdoor weddings – Use the beautiful outdoors for your special day – whether it's your garden, a secret garden or a woodland, you can create a wonderful whimsical setting for your intimate celebration.
4. Wedding design – Get more creative with your wedding design, layout and production as you will have more space to play with if you have intimate numbers.
5. Personalisation is key – With fewer guests, you take can those wedding details to the next level and incorporate personalised elements into your new plans.
Here are a couple of ideas of things you can do:
– Send out personalised packages to each family attending which could include masks, sanitiser, order of the day and a few other goodies that tie into your day.
– You could opt for more intricate on the day stationery designs which involve enhanced personalisation. This is often harder with guest numbers of over 100, so with fewer numbers you can get much more creative!
– The guests who will be attending will be your nearest and dearest, which means that there will definitely be a personal connection to each of them. So why not write each of your guests a small note for their place setting about a memory with them and that you are grateful they are spending your special day with you.
6. Host a larger party when it is safe to do so – You could opt for a registry office ceremony or in a place of worship and then when we are able to have larger ceremonies you can have a larger reception party, or you could put that money towards a beautiful honeymoon and your future! Plus, some of the registry offices and places of worship in the UK are beautiful as they are in listed buildings!
7. Adapt your format – Instead of opting for a traditional format, why not opt for a destination style wedding in the UK? So, a late afternoon ceremony followed by dinner and a party?
8. Why not have a destination wedding? – When it comes to abroad weddings, the world is your oyster, with so many options to pick from and so many beautiful resorts and properties. Having intimate numbers can make having a destination wedding much more accessible.
9. Communication is key – Depending upon when your wedding will take place, before the day, communicate with your guests on safety measures, social distancing and any other things your venue may have enforced for safety. This will put your guests mind at ease for the day itself.
10. Food & drink – With intimate guest numbers you can really focus on the level of detail when it comes to food service and the way it is presented. Here are a couple of ideas for you to think about include:
– Rather than a buffet, opt for a plated service.
– Have a chef do live cooking in the room.
– Create cocktails for each guest based on their personality.
*BONUS TIP* – Why not live stream your ceremony for your extended family and friends to special your special day with you online!"
ARE YOU CURRENTLY IN THE PROCESS OF PLANNING YOUR WEDDING? ARE YOU UNSURE OF HOW TO PROGRESS YOUR PLANS DURING THESE CURRENT TIMES? WHY NOT SCHEDULE IN A COMPLIMENTARY CONSULTATION WITH US. LET'S SEE HOW WE CAN HELP YOU BEST!