How we spent our 2020…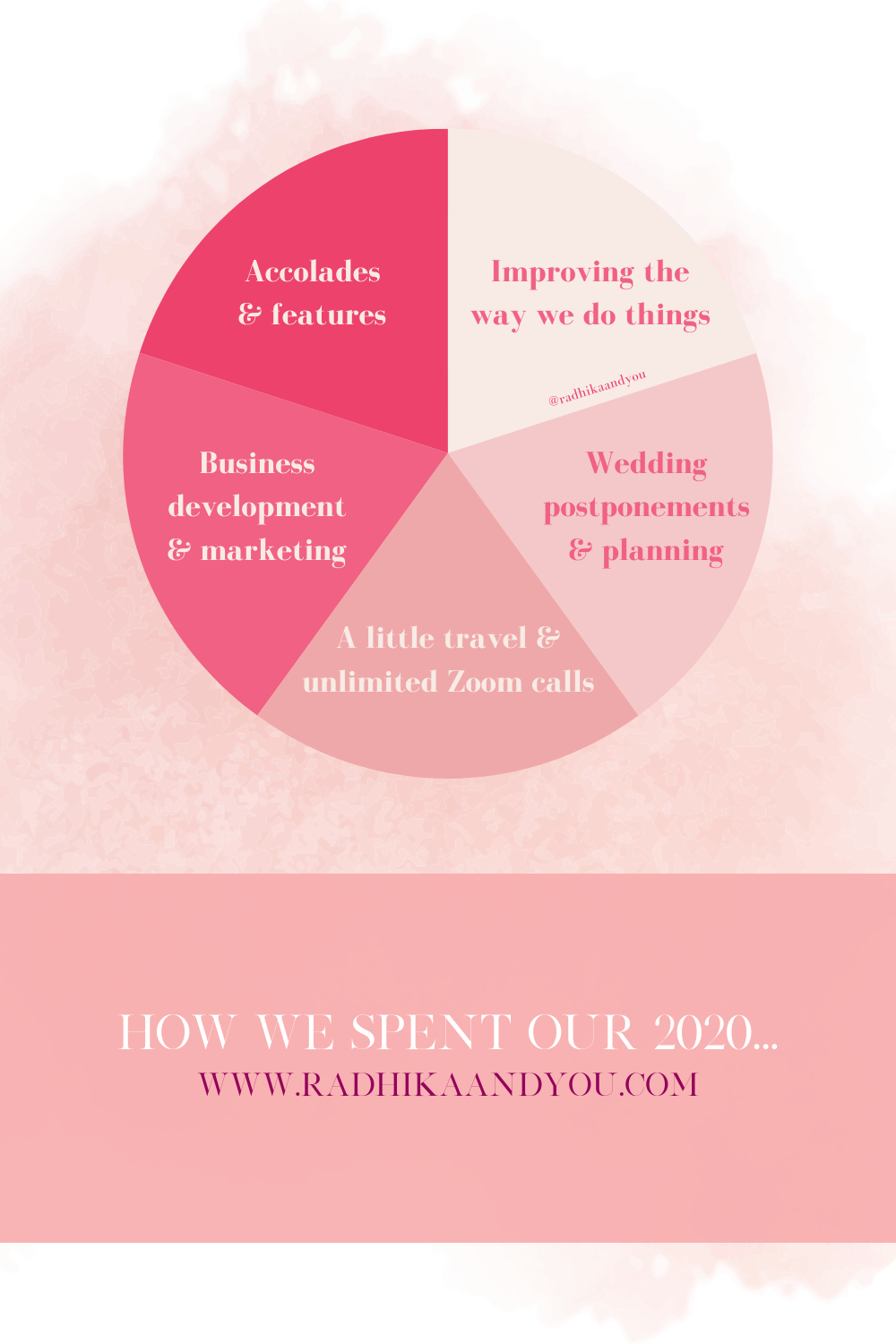 It's that time again when we reflect on the year (and what a year it has been for us all hey!). We have been taking a look back through the highlights of the year and wanted to share them with you!
Wedding postponements & planning
It's been a crazy year for the world of weddings. Our priority has been to work hard with our lovely couples to postpone their current plans from the start, which as you can imagine was an emotionally challenging time in which we supported them all through. We have also prepared further contingency planning for our couples should their second date not be able to go ahead. We are working on this month-by-month.
We are working on some beautiful weddings for our couples for 2021 and 2022! Let's all pray and stay positive for the year ahead!
Business development & marketing
We have taken advantage of the time we usually don't have and this year we have spent a lot of time focusing on the business and improving our operations to ensure.
Marketing has always been a priority to us and we have continued on communicating to our clients, suppliers and followers and delivering them valuable content. Some of which includes:
We created advice-led and inspirational content on our blog throughout the year for couples as well as suppliers
We created a new service for couples called Plan for Now to help couples to plan ahead during Covid-19
We ran some giveaways this year – one for our 6th birthday and The Ultimate Christmas Giveaway
Having time has meant we have been able to pick up projects that we have not been able to up until now – we have some EXCITING things coming your way in 2021! Wish we could say more, but for now we will have to keep it on the quiet!
Accolades & features
We have been grateful to have won the regional finals for the Planner category in the South West, UK at The Wedding Industry Awards 2021. It's been a tough year with highs and lows for the wedding sector and winning this award has given us hope and light at the end of the tunnel.
Also, we have had the opportunity to be featured in a selection of publications and media outlets – here are a handful of some of them:
BBC Asian Network talking all things weddings
Wedding Sutra for an editorial shoot (A leading global wedding publication!)
The Asian Wedding Club speaking alongside Sarah Haywood, SW Events and a lovely bride around
A little travel & unlimited Zoom calls
As you know we both LOVE to travel and to be able to do that as a part of work is just something, we are both very grateful for. We have managed to…
Have 2 planning trips abroad including in the UAE and to Europe
Attended an international planning conference in Italy and represented the UK
Go on holiday to Greece in the Summer which was much-needed
Improving the way we do things
As we were going to be working from home a lot more and not from hotels, we redid our office space!
This year we've learnt to take more time for ourselves and have 'me-time' and also 'us-time'. It's so easy to consume too much media, take on too much and get stressed. So, we have made it a priority to protect our wellbeing as much as possible.
We are both positive souls and we are big believers in looking after your mental health. This has been so important to both of us this year even more than before.
Finally, we would like to wish all of our couples, suppliers, venues and supporters good health, love and happiness for the New Year. We look forward to working with you all in 2021!
Radhika & Shindy