3 top tips for styling an intimate wedding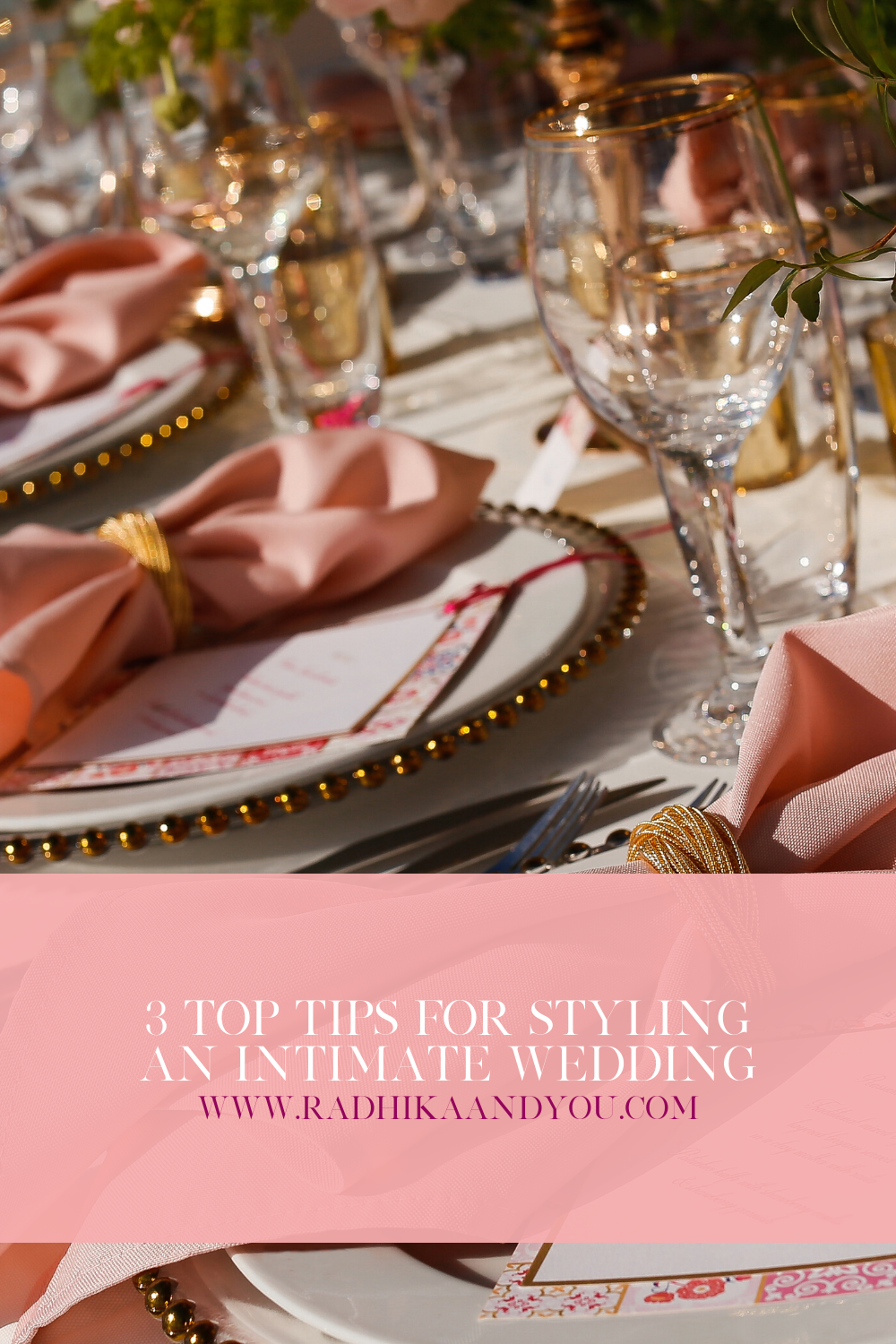 Guest blog: 3 top tips for styling an intimate wedding by Sarita Babber from Lux Occasions
Planning a wedding post-covid? No problem!
If you think Covid-19 means wedding plans are disrupted, then think again! If anything, this gives us an opportunity for an intimate wedding – and with social distancing, imagine how much space that leaves for styling and splendour!
1. Table styling for intimate weddings
Layers and heights are going to become your best friends for this one. Use this as an opportunity to add a pop of colour with napkins, favours and name cards. Selecting larger plates, layered with luxurious linen, topped with a menu card and personalised favours is a perfect start. Go that extra mile by adding some pink ribbons or elegant flowers on the favours too!
Height can be included with the centrepiece installation, and is what will add dimension and dynamic to the wedding. Luxury wedding flowers are a wonderful way of bringing that fresh and inviting atmosphere through delicate peonies or crimson roses. However, the centrepiece doesn't have to be so dominating, and can even be a smaller installation to create a delicate, simplistic feel instead.  Glasses are another chance to add a dazzling flair to the table through including a silver or gold flute really make the tables stand gloriously.
Either way, this extra touch in the details will create an atmosphere for the guests.
2. Luxury floral installations
Social distancing can only mean one thing: an interactive dining experience! Let's invite the guests to step into this themed wedding, by placing large trees and luxurious wedding flower installations on and in between the tables. Watch how branches hang over the tables ever so delicately, or how luxurious wedding flowers and garlands reach over the seats in an unobtrusive way to enchant your guests!
Just as you watch, the guests will be basking in this beautiful atmosphere.
3. Smaller table settings
Let's be creative with this one. Rather than a 10-plate setting, reducing guest tables to 8-plates, or even tables per household is how we can stick to the social distancing rules, whilst keeping the intimacy close.
To spruce this up, why not have unique table names that associate with the families on the tables? This is a fun way to enlighten the guests, and you can even turn this into a table feature by including it within the luxury wedding flowers.
Using a table runner for individual place settings helps make the tables feel personalised, and being inventive with name cards is a great way to welcome the guests into this immersive experience. Incorporate the shapes and tones of the décor within the cards. Perhaps using acrylic cards with a standout gold font, or even tying names to the back of the chairs is a unique way to bring an urbanised feel to the day.
With these three simple steps, you will be on your way to a timeless and memorable wedding.
For a floral styling and decor service that is creative, professional and reliable choose us. Get in touch on 07951 636345 or head over to our website and fill out the ​Contact Form​ to find out more about how we can help you create your dream celebration through floral design.  You can also​ ​click here​ to find out more about our booking process.  Follow us on ​Instagram​ / ​Pinterest​ where you can see more of our work for ideas and inspiration.
Sarita Babber | Creative Director | Floral Designer | Event Stylist