23 top tips on staying positive and looking after your mental health whilst planning your wedding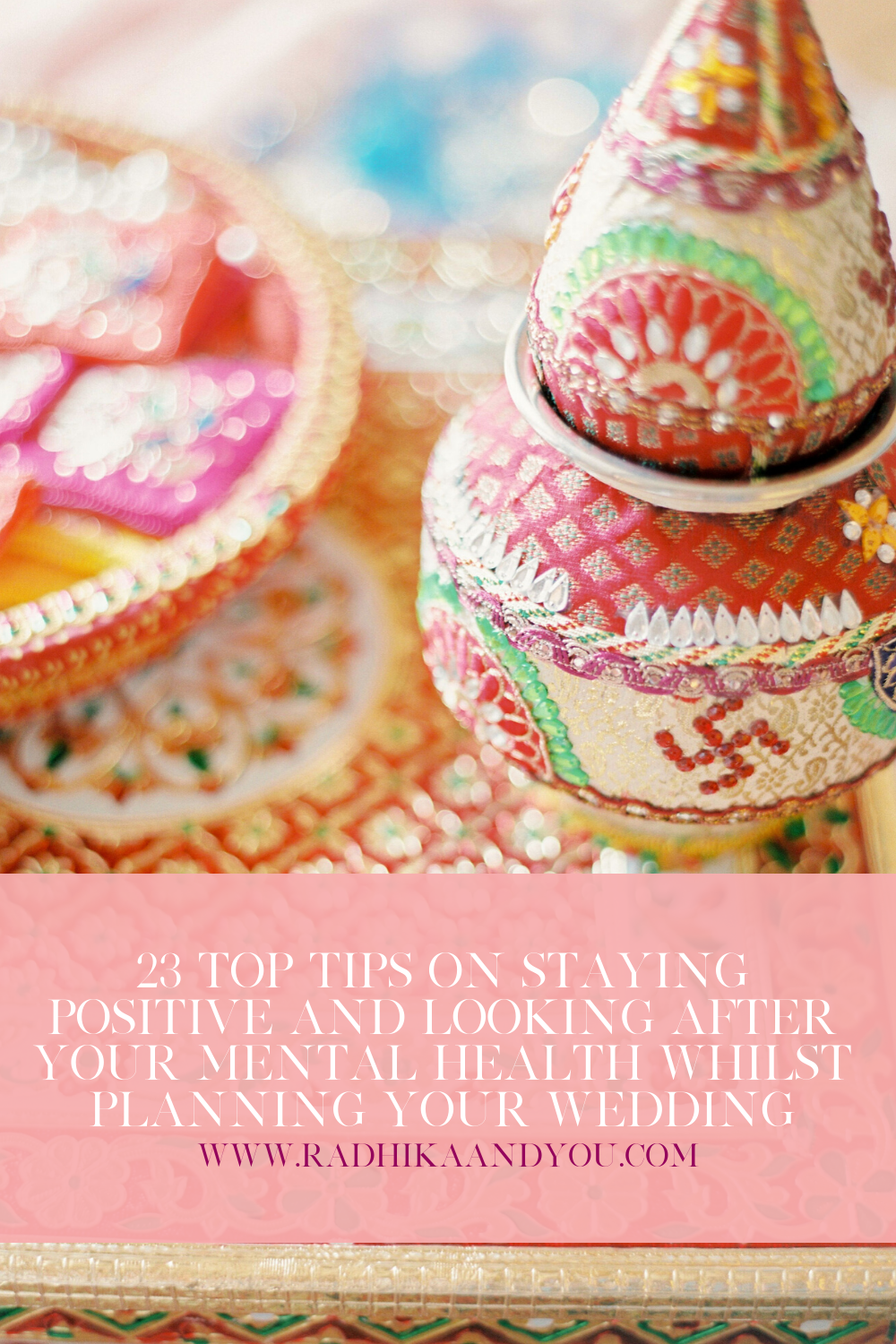 Being in lockdown has been a roller coaster of emotions for us all, from feeling as a cool as ice about the situation to your mind doing bungee jumps. These testing times can easily get the best of many of us, even if we are usually positive. In this blog we feature 23 top tips from our industry friends on how to remain positive and looking after your mental health whilst planning your wedding.
1. Speak to loved ones more regularly. We are all super busy with day to day life and hustling away, working anywhere between 10 – 15 hours a day. We very hardly get time to speak to our own in detail yes the average 10 minute call takes place but just imagine by doing a zoom call how much you may be able to help yourself and the people who you are talking to you could uplift them.
Focus on the outcome, visualise the wedding day, think of all the loved ones you will have around you, and see how the designs and plans have been put together by your creative suppliers this will bring positivity in your thinking and will ease the stress.
Stress can lead to mental health, especially when planning a wedding most couples do get stressed. A lot of people we know have taken up meditation. This can be another way to clear your mind and stay focused on the positives throughout your day.
Amar, Brijwasi Events
2. Yoga or any sort of exercise, this has allowed me to stay focused.
Bhavna, Bhavna Barratt Photography
3. It's all about mindset, if you watch too much news and focus on the numbers being affected by this pandemic it can really start to bring about many negative feelings so my suggestion is to focus on the positive side of this all. I also urge people to see this as a gift of time, time to get your house cleaned and in order, and lots of time to plan your wedding!
Ganga, Ganga Makeup & Hair
4. Staying in your routine is more important than ever before right now! It helps to keep you focused and also prevents your mind from wondering and worrying about something out of your control.
We always find that when we need a pick me up, we listen to music – so create some playlists of your favourite songs to put on and it will perk you up!
We can appreciate it can feel frustrating but stay positive and it will come good – love always wins!
Shindy, Encore Vision & Sound
5. It's really important to gain a firm understanding that stressing or worrying won't change the outcome in the slightest. I know it is human nature to do so, but focusing on the positive in whatever form goes a long way.
Watch funny films! Laughter makes your whole body vibrate in a fantastic way which improves mental health and leads to feeling much better.
Make a gratitude list and read it daily, no matter how bad times are there is always a lot to be thankful for. Another great way to improve mental health.
Exercise as little as 30 minutes a day will keep your mind fresh, and aid in killing off anxiety. It will make you feel boosted and of course helps you burn off those calories.
The foods we eat have a massive knock on affect with how we feel. Cut out processed foods and stick to fresh whole foods at least 90% of the week.
Gurkirat, Imperial Drummers
6. Always be grateful for what you have. We have started a gratitude jar of the little things we appreciated during this time so when can come out the other side we can read the little notes.
Many people find meditation and mindfulness helpful during stressful times, although this is not for everyone. Meditation apps can help you calm your nerves and leave you feeling positive.
If you are going to be spending more time it home it is always a good idea to get your living space in order. Be it your bedroom decluttering to help you sleep better, your kitchen so that you're eating healthier, the office so that you can work from home or your living room where you will be spending more family time with your loved one.
Exercise is always good to get you going. Most people will find they can't go to the gym so best to get this going at home. there are so many fitness coaches to get you motivated, I personally am fixed by Joe Wicks and 20minute HITT fix is all I need to set me up for the day.
Sarita, Lux Occasions
7. Know and understand we are all in this together. We will all be affected in some way or other, some different to others but essentially this will be a time that we won't forget. Do things that make you happy and bring you joy; appreciate the time we have to stop and sit still and just take everything in. If you were to get married now, still do something special with your other half whether it's a virtual date and a virtual dance with each other to your first song. You have more time with your families to enjoy and more time to make memories. We may never get time to stop and take a break again. You will still be marrying your loved one after this time has passed.
Jaineesha, Jaineesha Makeup Artist
8. There are many ways you can focus your mind to be positive:
– try yoga (more so breathing exercises) and meditation,
– having a go at focusing on a new skill or hobby,
– reading those books, you never had the opportunity to.
– getting fresh air and taking a deeper look at your beautiful surroundings,
– having light conversation with a friend (not discussing the news or things that will make your anxiety worse).
Tina, Sugar Box Events
9. Although these times are daunting, we will get through it and for those currently not working it is a perfect time to pick up a hobby, learn a new skill and get organised. Use it as a time to revitalise and reinvigorate, we may never get a break like this again!
Keep a positive mental attitude, it's too easy in these times to slip into darkness, get outside for your daily dose of exercise, have fun with your children, do that DIY you've been putting off forever. Keep yourself busy and you'll come out of this better than ever!
Jack, Breeze Bar & Events
10. I think in order to stay positive you have to see the entire situation as positive first, then you can remain with that school of thought. If we step back and look at this time as a chance to really be ourselves and be with our families, connect with them and loved ones, friends and even make up with those that you've not spoken to for whatever reason! Ask yourselves when was the last time you spoke to your family members so frequently? When was the last time you had a chance to sit around the table with loved ones and just talk? When was the last time you had the chance to do what you wanted, be it read a book or do a silly video for TikTok! We have all been put into this weird but wonderful situation and rather than react to it we need to respond to it. And the best way to do that is look at the whole thing positively and use this time to connect, plan, research, whatever you want.
IQ, The VIP Studio
11. Even a 20-minute walk/ run, workout daily (if you can) feels incredible. So many home work out videos and apps to choose from!
Neha, Wedding Touch UK

12. There is so much to be grateful for especially if you have stayed healthy and well during this period. There is so much uncertainty around what is happening that we have all created our "new norm" around family life, being at home, working, cooking, home schooling etc.
There are going to be challenges as every family member's needs will be different but largely, we are seeing this once in a lifetime opportunity to spend quality family time together and develop ourselves at the same time.
Use this time to read, to start an online course, to paint, to cook, to play and to work on your business.
I personally have been doing all of these and my greatest joy has been to paint again.
It's totally understandable that with so much uncertainty that anxiety may creep in. When I feel a little overwhelmed, I tend to go for a long walk, or meditate using apps on my phone. I've meditated for 3 years now and it's a moment to be still, focussed and breathe deeply and always helps me feel better.
Shalini, Red Dot Jewels
13. Often the best way to stay positive is to keep going, so do continue your wedding journey even if in small amounts, to maintain your enthusiasm in the lead up to your event!
Now is the time to focus on all those details on your wedding day! Get crafty or hire a supplier to exchange your ideas with and make your ideas come to life!
It is so important now more than ever to maintain a routine. Go on that walk! Do that yoga session in the morning! Or go on borrow my doggy and become a dog walker for the day.
Take up a hobby which you know you can keep up with. I have loved doing both calligraphy and growing plants during lockdown. Seeing tangible progress in yourself and the things you are investing in, is a very powerful mental health booster.
It could even be as simple as baking a cake, cooking a meal or knitting.
Another very powerful mind booster is to do something for someone else – help in the community, bake something for your neighbour, cook a lovely dinner for your other half – the options are endless (and can be both fun and rewarding!)
Payal, Calligraphy Payal
14. I think for anyone who's experiencing any anxiety or stress throughout this, my advice is allow yourself the time to feel those feelings and work through them. Bottling them up or beating yourself up is not healthy or productive. Stay connected with friends and family to lessen some of that isolated feeling. Keeping to some sort of a routine is also great for the mindset, getting up, having breakfast, getting dressed etc, it all helps your mind steady during uncertainty. I've also found that using the Calm apphas also helped with some morning mindfulness, keeps me grounded for the day.
Amanda, Amanda Karen Photography
15. Mental Fitness is a key activity to staying positive and calm. The mind is very powerful system in the body which generates thoughts to keep us positive or negative.
To keep the mind in a positive state, keep a daily routine so that you feel like you are always staying occupied. If that means you do something to do with your wedding every day, that's great! "AN IDOL MIND CAN CAUSE A DETRIMENTAL EFFECT ON ONES WELL BEING" so keep moving with your plans don't let them stagnate. Learning a new skill is a great way to keep mentally active as it is something that you may not have done before so it keeps life interesting. Maybe consider making your own wedding cards or learning a dance which keeps you fit too!
Work on your spiritual state once a day – it could be as simple as some gratitude exercises for all the great things we have in life, so you remain in a positive state. If you find yourself being negative about circumstances, then find something positive that has come out of it and be grateful for that.
Working out is great for those happy hormones and it's important to stay in a good physical state to remain positive for now and the future. There's a good old saying "HEALTHY BODY HEALTHY MIND." Use this time, to get active, get that bikini body ready for the honeymoon or whatever your objective I, but make it part of your routine to get active. Go for a walk or walk and talk to suppliers on the phone rather than sat on the sofa, this will take your mind of the things going on in the current climate and make you more positive about the future to come.
Arjun, Arjun Desai Toastmaster
16. During these uncertain times I think it's very important to maintain some form of routine and ensuring your mind is occupied in order to avoid boredom. We have been gifted with something that is so rare, which is time. I think it's important to use this new found time to your advantage and learn a new skill or focus your attention on things you don't normally get to do.
Meditation and Yoga is something I never thought I would be doing but I have personally seen the benefits from it during these times and highly recommend this to everyone. I think it's very important to have a routine in place so you don't feel overwhelmed. Within our industry I have seen everyone come together like never before, to offer support and guidance to one another as well as couples in distress. Having said that, it is still important to maintain contact with your friends and family using visual platforms such as Zoom, Facetime etc.
Sukh, Azure Bar Events
17. Weddings are stressful. No couple will ever say their wedding was a piece of cake. Looking after your mental health is very important and our advice is to reduce the stress of your wedding as much as possible by hiring a wedding planner to organise your event or create a detailed plan for trusted family/friends to execute!
Lak & Rajan, High Rated Drummers
18. Brides and Grooms: Remember your wedding isn't cancelled, it's postponed. You have more time to make it even better and enjoy the process!
Mindfulness is a great help. Do something you enjoy. With lockdown I have had time to garden and cook which is a great outlet for my creativity. I've also got back into exercise which is certainly a positive way to release endorphins and help you feel good.
Talk to everyone, you may not feel like that evening Zoom meeting but you'll feel better after it and the other person may need a friendly face to talk to. Talking is great therapy!
Sid, Jay & I Events
19. Go for your daily exercise
Take up a new hobby, colouring, baking, reading a book or do some diy around the house.
Meditate in the morning and evening just before you go to sleep
Limit your time on social media and the news
Take advantage of found time
Start writing a gratitude journal everyday
Sonal, Aurora's Collection
20. We are all in an extremely difficult situation at the moment and the pandemic is affecting everyone in some way. If you are feeling overwhelmed with it all and have just changed your date with your venue and all of your suppliers, take a break from the wedding planning and just focus on doing things for yourself. You can always pick things up again once you are ready.
To some, however, wedding planning and research can actually provide some hope, happiness and a much-needed escape from everything that's going on at the moment and if so, carry on! Hopefully you will have some more time on your hands to think about your menu, decor ideas so why not be creative and make a mood board for you to share with your suppliers.
Preeti, Preeti Catering
21. Social interaction is really crucial to good mental health.  Diarise your day and ensure you are taking advantage of technology to speak to friends and family, join in or suggest quiz nights to keep your mind active so your focus remains positive and upbeat.
Seek help from support networks and specialists who can provide one to one help should you be feeling and negative impact of the lockdown.
Exercise and good healthy food is essential as it has shown to improve mental health.
Kiran, Cake Boulevard
22. Take on an activity – be it reading, cooking, painting, dancing, playing board games, or any other activity that makes you feel good.
Immerse yourself in nature – go for walks if you can or if you can't, bring some nature to your own house through planting herbs, making a flower garden or grow your own veggies.
Take time to relive your childhood – Children have an amazing way to view the world, schedule in some playtime with your children and pamper your inner child.
A healthy body and mind can do wonders to the way we feel. Eat nutritious food, engage in some physical activity and practice meditation, mindfulness or breathing.
AJ, KAT Films
23. Staying positive in a time like this is ever so important. However, it's easier said than done, especially when you see the bad news each day, how you imagined this time of year to be with wedding preps, birthdays, family and friend gatherings (especially as we pass these bank holiday weekends). But here we are and we have to try and not dwell on what can't be controlled. I have been there myself! So, the way I have got around these thoughts is finding those things that make me happy to do. And I don't mean just a hobby, but exert your energy elsewhere. So, if you were fully immersed in wedding planning before and things have come to a halt. Shift that energy and be the one to organise a virtual family pub quiz. Or if you have had to shift your wedding, on the day it would have been your wedding have a virtual party with your family/ friends. Do things which give you moments to look forward to each week!
Nishma, Doves & Peacocks
IN OUR NEXT BLOG WE WILL BE SHARING TOP TIPS FOR OTHER BUSINESSES FROM THE WEDDING INDUSTRY AND HOW TO COPE DURING THESE TIMES!