22 top tips from wedding industry suppliers for couples starting to plan their wedding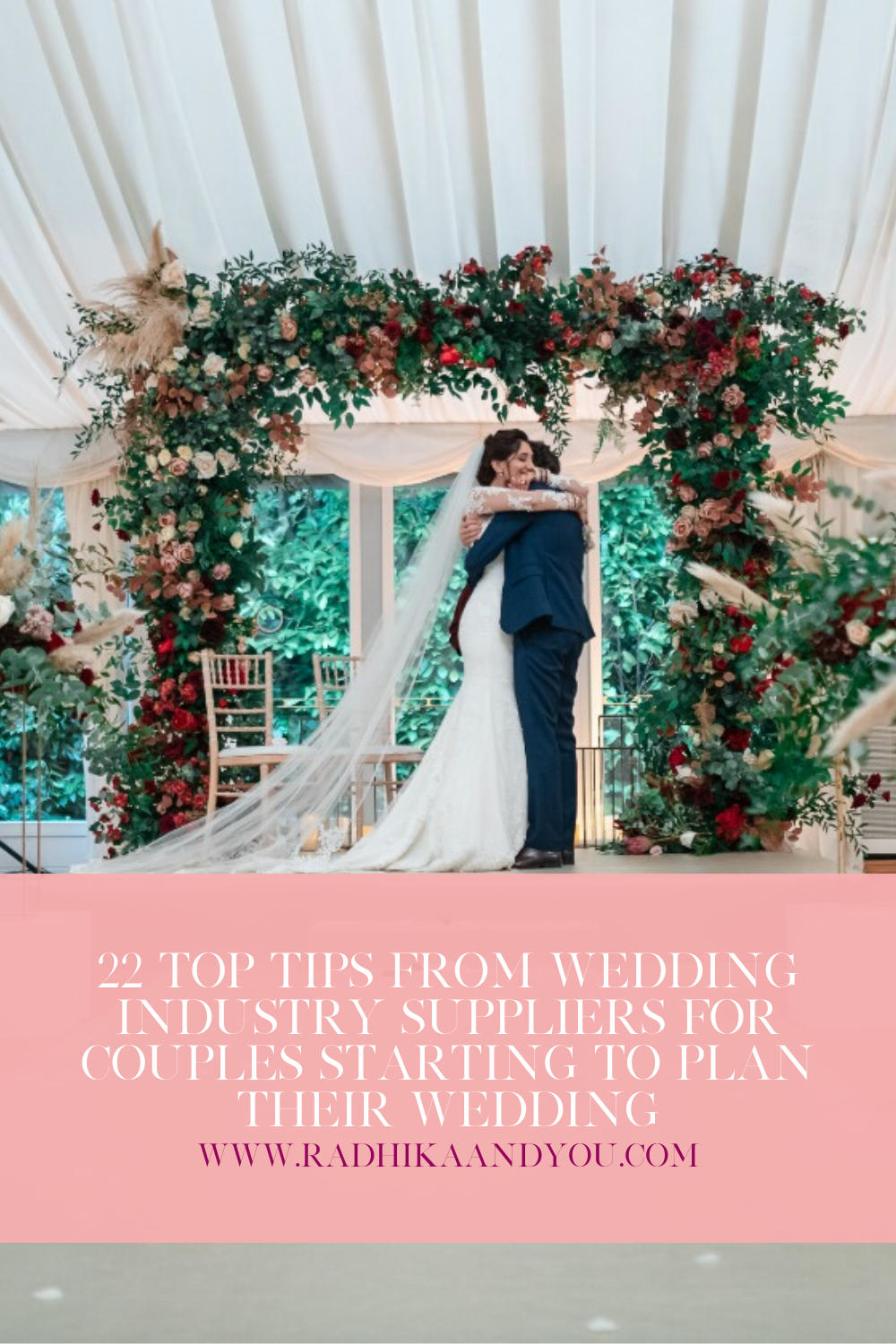 None of us have ever experienced anything like this before in our lifetimes and we are all learning to continue in these current times with new ways of living daily, working, communicating and so much more.
In the wedding industry we are all continuing to plan our couples weddings as well as working with new couples. Many couples are at the very start of their planning journey, so in this blog we feature 22 top tips from our industry friends on starting to plan your wedding during Covid-19:
1. To those starting to plan weddings, do not be scared by this pandemic, continue as any couple would with researching your suppliers, getting quotes and even book in some video consultations so you can get to know the suppliers before booking.
Ganga, Ganga Makeup & Hair
2. Reach out – If you have any questions, concerns or just need some advice, speak to your wedding planner and/or suppliers and we are sure they would love to help. We are all working remotely at Preeti Catering so you can always reach out to us either for an initial quotation or to move forward with your wedding plans. Although we sadly can't meet in person, we are offering telephone consultations and planning meetings so that we are still here to help you, whichever stage of your wedding plans you are at. You definitely don't have to put everything on hold.
Preeti, Preeti Catering
3. If you have a favourite Vendor/Brand, enquire very early on to avoid disappointment!
Sometimes the more money spent doesn't necessarily mean better, there are a tonne of suppliers who provide an amazing service that won't break the bank. Always wise to shop around and even see vendors in action at a live event.
Gurkirat, Imperial Drummers
4. Couples in 2020 have a huge advantage over previous generations. They have so many resources available at hand to plan their most memorable day. Use Instagram and Pinterest to help find ideas that reflect your likes and incorporate them into their day. Use the time during in lockdown to create mood board.
You can plan most aspects of a wedding using modern technology. I myself am able to provide Zoom meetings and discuss décor at length with clients. You can probably do this for most vendors except catering and venues? Caterer you may want a food tasting. Venues, you may want to see it in person.
Sid, Jay & I Events
5. We are all still open and ready for a conversation. We may not be able to meet in person however, we can use other facilities like zoom to hold a meeting and give you advice and quotes etc.
Have your preferred suppliers listed and pick up the phone to them (it could just be the little boost they need right now too!).
Be prepared to move quickly with your chosen venue, caterer and suppliers as 2021 might end up being a rather busy year! So now is a good time to do your research and make some final choices where you can. Some suppliers might be able to post out samples etc so please do ask as this will help speed up the process for you.
Be positive and know that you are safe at home and now have time to look at all those profiles and have those conversations that might have proven difficult whilst working.
Tina, Sugar Box Events
6. For couples that are starting to plan their weddings I would suggest trying to secure their favourite suppliers early on. 2021 is shaping up to be an incredibly busy year for the events industry, due to 2020 postponements, so it is wise to think slightly further ahead than usual. For that reason, I certainly wouldn't hold off on your planning if you are in a position to.
However, I would suggest checking what your chosen suppliers' policy is regarding postponements before confirming with them. How the wedding industry has dealt with the current situation has proven just how helpful and flexible most events professionals are so I would take comfort in this fact.
Adam, The Wedding Filmmakers
7. It's important not to lose yourself in the process from all the additional help and opinions family members have to offer. Often, hiring a wedding planner can help ease the process and make your journey so much more enjoyable and stress free.  With the way the market is moving it's no longer about what you're offering but how. Considering a professional drinks service provider earlier on in your process is vital, we can work with you and your vision to heighten the experience your guests receive.
Sukh, Azure Bar Events
8. Coming from a stationery perspective, once you've found your dream venue, get the date locked in, perhaps have a chat with the families how you would like the ceremonies to take place, are there key traditions or events that need to be considered. Finding your stationery is usually next on the list, you may have the help of a planner, like the amazing duo from Radhika & You to help you along the way too. When it comes to planning stationery, here are our top tips:
Allow enough time to get the order in, design time, print time and delivery, it allows us to work with you. We usually allow a 4-6wk window, or longer for bespoke commissions.
Again look at budgets, we love getting creative and we offer a range of finishes and materials, prices will vary for a lot of these more custom finishes.
Take a moment to think about what wording you'd like to use – make personal, something unique, special to you? (You don't need to follow the crowd!)
Get on Pinterest, this is almost a gold mine of inspiration, once your own, get it down to your favourite 10 key pieces of inspiration, this will really help to identify a style, Colour or theme.
A lot of us are also using social media to find suppliers, so use those hashtags to get inspired too! #weddinginvitation #weddingstationer #weddinginvite to name a few.
Tayjal, Mani's Creative
9. If you're starting to plan your wedding, most vendors are still contactable via phone or Skype so it shouldn't affect your planning too much. You can arrange face to face consultations once this is all over. Starting to plan your wedding is an exciting time, enjoy it regardless of everything going on!
Amee, Wed in Style
10. Research, research, research! You need to thoroughly research and compare all of your potential suppliers. Everyone works differently and you need to see who works best for you.
If you do not already know who you want to book for your event, I would recommend listening to word of mouth recommendations from people you trust.
Wedding planning is a whole new world for someone doing it for the first time. You should feel comfortable enough to ask your suppliers about anything you do not understand. After all, it is YOUR big day!
Be wary about booking suppliers you have not met or spoken with. Some suppliers can look absolutely great on social media, but of course you only see the best of everything on social media. Always try to meet with your suppliers because that is the best way to get a feeling of if you would trust that company to take care of your big day!
Everyone has a budget – you need to do what works within your means. However, when comparing suppliers, you will come across very different price ranges. Of course, a quality product/service will come at a more premium price. You need to prioritise which aspects of your event are worth investing the most in and then you can distribute your budget accordingly.
Hamna, Greenleaf Catering & Event Management
11. For those planning a wedding – book your vendors! I'm sure everyone is probably giving you the exact opposite advice but as a vendor I can tell you from the calls we are getting that everyone is asking us to block dates for next year. Which means taking on new clients becomes harder as we are getting pre-booked. For example, our July weddings are asking us for similar dates next year. Which means those new couples looking to get married in July will now have limited options on dates as many vendors can't and won't take two bookings on the same date. So, if you're planning for next year and you have firm dates in mind book your vendors so they too can cross of those dates when talking to other clients who are postponing dates.
IQ, The VIP Studio
12. If you are starting wedding planning don't be afraid as the best suppliers will be fully available during this difficult time to give the best advice. They won't be rushed or tired from the weekend so make use of them and the technology available – like zoon meetings!
Pritpal, Ritzy Productions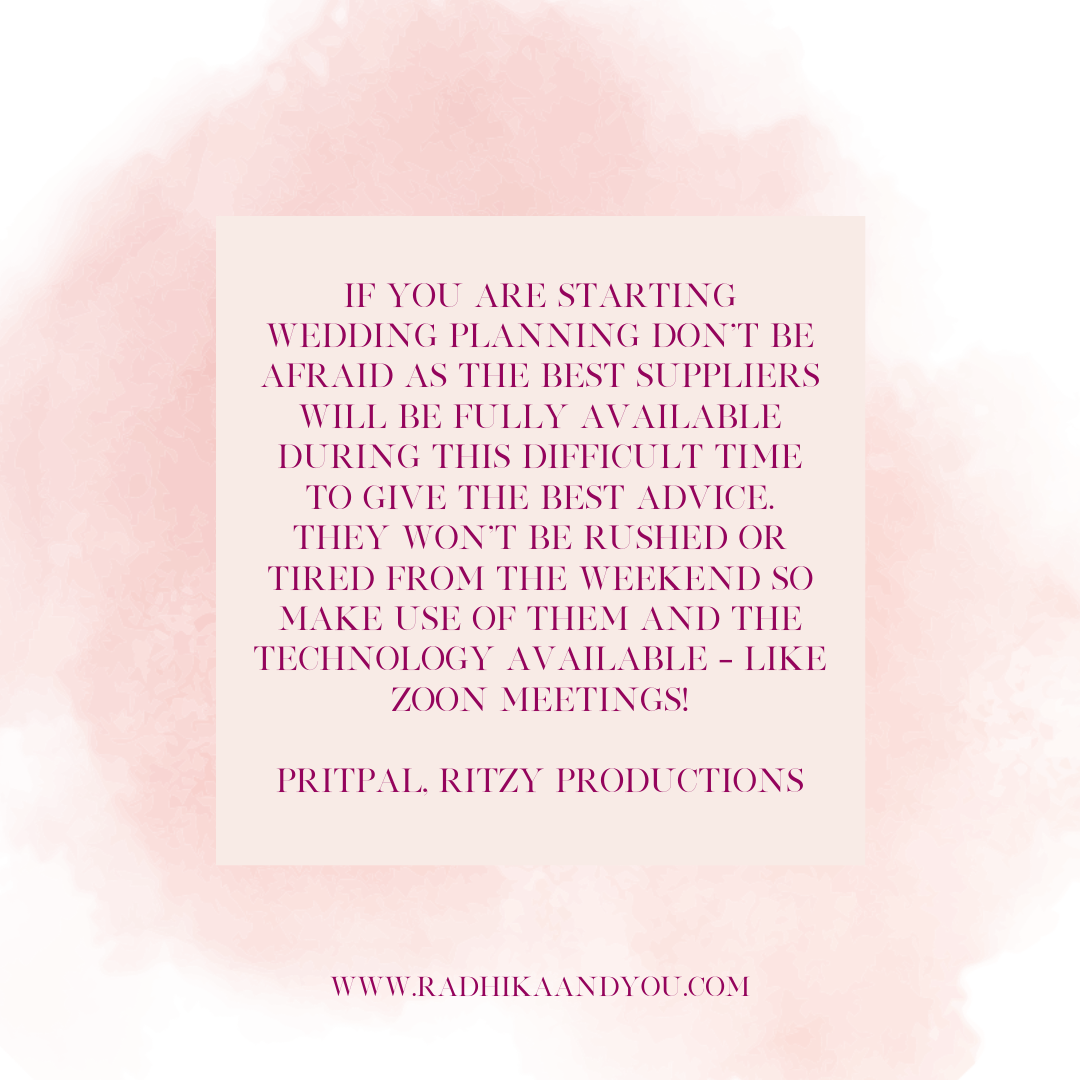 13. I would firstly suggest they have a conversation together about the overarching feel of the wedding they want, to manage both expectations from the outset. This will set the tone for the subsequent liaison and research with suppliers.
Rough numbers of guests, destination wedding or local, city or country setting, religious or non, or a mix of both.
These very overarching ideas will immediately focus your research and set up interesting discussions between the pair of you to enable you to both be on the same page and enter the wedding journey together. The process can be a lengthy one and we would want you to have as much fun and stress-free conversations as possible!
As a stationer, I do hear the common misconception that this can be left quite late in the process. I urge you to start the process early!
The conversations you will have with your stationer, who is a designer don't forget, will kickstart your ideas for your decor, flowers, outfits etc. Think of a stationer as your free ideas guru! Your mood board they will set up will show you the possibilities and then allow to take those ideas to a decor supplier to make them tangible.
Your invitations are the first things your guests will see with regards to your wedding. Make it count! Ensure your theme is set from the start and your wedding is a tight, flowing, well curated event.
Payal, Calligraphy Payal
14. Many artists are super flattered when a bride books them without a trial, however – to be honest I think a trial is very important regardless of how sure you are of the persons work. Firstly, at a trial you are able to check whether you have a good rapport with your bridal stylist, who is usually the person who will be with you the most just before your entrance! Also, at a trial you're able to try out different looks that may suit your eye colour / face shape / hair colour that you never thought to try. Lastly, there may be products that do not work well with your skin type, and its much better to find out at the trial than it is on the wedding day!
Also, ensure that you have collected some photos of looks that you like, ideally of women who are of a similar skin tone and bone structure got you, or women that have similar hair length and texture to you. In particular, pay attention to the eye shapes on the looks you choose. This is a huge help, as it gives the artist an idea of the level of intensity of the makeup.
Manisha, The London Beauty Stylist

15. For those who are still planning their wedding or have just got engaged, the wedding industry is still here and ready to work. Don't let what's going on around us to dampen that excitement of planning a wedding. Ok, you may not be able to visit a venue or meet face to face with suppliers, but technology has been incredible through this time, with video conferencing for consultations and some venues doing online walk-arounds. 2021 could look set to be a busy year for weddings, so if you have a date in mind, try and secure that date when you can as there will be a higher demand for key dates with many 2020 weddings being moved to 2021.
But remember this is still a time for celebration, ok this might not be how you thought it would be planning a wedding, but this will become part of your story as a couple and the wedding planning will help pass the time and you'll have something to celebrate at the end of it!
Amanda, Amanda Karen Photography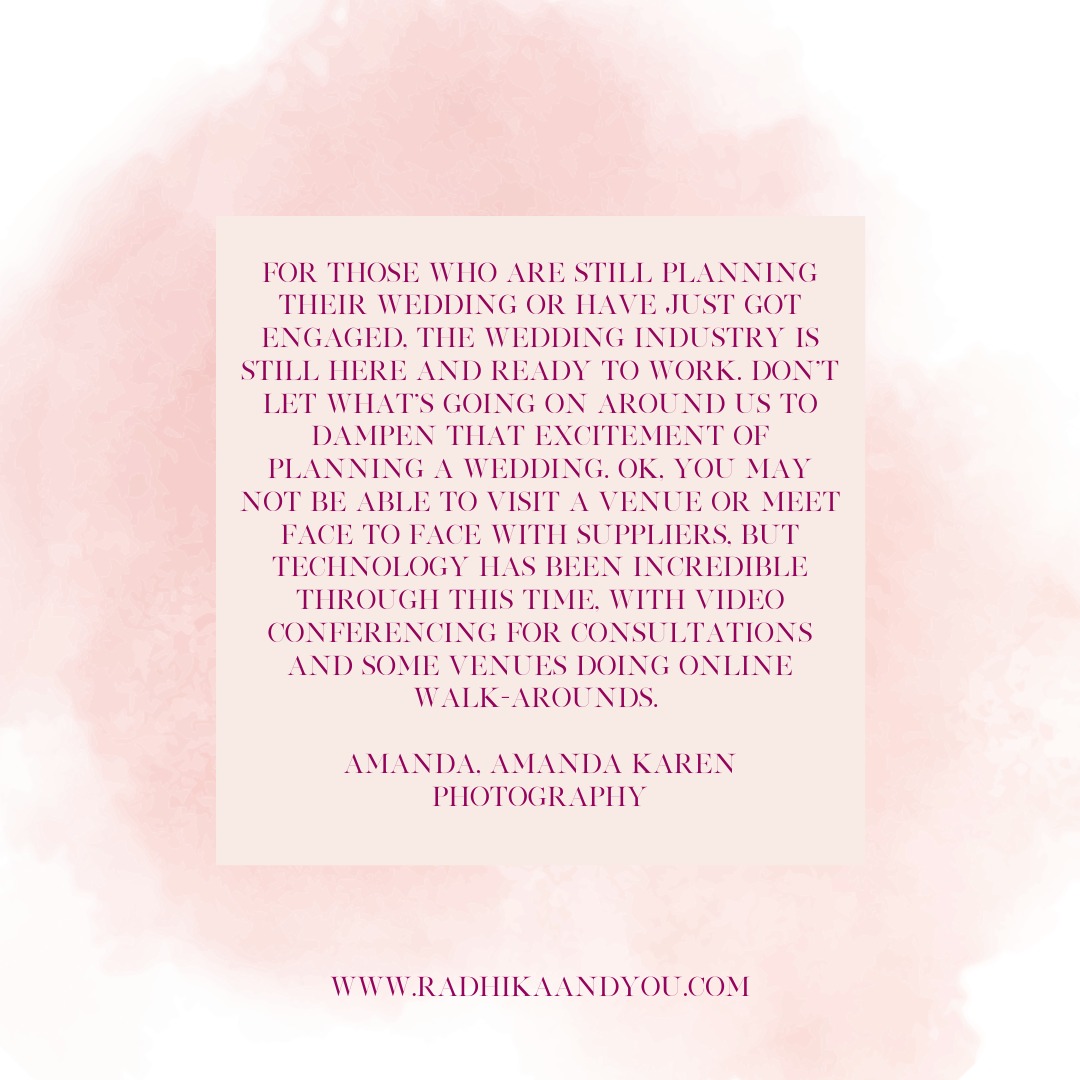 16. Don't let the current climate dampen your excitement. We will be going back to normal even if it'll take a bit of time. So, my suggestion If you are planning a wedding later on in 2020 or 2021 – embrace the fact that people will be excited like no other time to meet family and friends; to be around people. Think about adding little activities where your guests can get involved, maybe little Instagram challenges at your reception or at the wedding having a photo op where guests have a picture, they take away with them. Remember bonds are going to be stronger than ever as we will all remember the time, we couldn't be together!
Nishma, Doves & Peacocks
17. Keep going, you must understand that even though we are all in lockdown, all suppliers in every industry are working, and are continually making and creating methods of better performance, so I believe this is a great time to speak to them, suppliers will share new ideas and concepts that will be trend settings for the upcoming events. You will feel positive by contacting suppliers as you will see lots of inspiration.
I also believe you should book a wedding planner, especially in these times, they are the ones who know the suppliers more than the client, this is because they do multiple events with suppliers and spend most of there weekends with them. The planners will be able to introduce you to the most relevant suppliers and have a list of professionals that will match your style and budget.
Amar, Brijwasi Events
18. Research – Visit exhibitions and use Social Media and speak to suppliers on the phone and ask for quotes based on your mood board and number of guests – this will help you understand how to assign your budget.  No supplier should be an afterthought! – speak to all potential suppliers for each category before you book anything.  Ask for referrals from your suppliers – but do your own research too!
Understand your budget – Many clients fall in love with a venue – then once they have secured their venue and caterer, they suddenly find their budget has been swallowed up and have to compromise on all the other essential elements of their wedding.
Create a mood board of themes and styles that you like. This will provide direction to your planning from the beginning – if you like more than one style then create multiple mood boards that you both like – think about colour, lighting and the overall feel and ambience. Consider your favourite foods, flavours and dietary requirements. Would you like a theme to your event such as Gatsby, Vintage, Contemporary and also consider locations!
Book in your consultations – You will now have a real foundation to ask the right questions, steer the meeting and make decisions during your consultations!
Remember use your gut instincts – having had a phone conversation and consultation with your supplier if you feel they are perfect for you then book them. Many suppliers do have limited availability and it is essential that you get the supplier you want!
Kiran, Cake Boulevard
19. It is so important to set a wedding budget and ensure you stick to it as much as you can.
Research all your suppliers and book your preferred suppliers as soon as possible. Always ensure you have contracts in place for all your suppliers.
Do what makes you and your partner happy. When it comes to decision making don't take too many opinions as this can be overwhelming do what you think is best.
Bespoke jewellery & outfits can take up to 6 weeks so do take this into consideration.
Try to get a good support network around to help you through the little things.
Sonal, Aurora's Collection
20. The most important advice we can give to all couples planning their weddings is to workout your rough guest list numbers and set your budget.
It's essential to set your budget and proportion the costs across all your events for your wedding.
Use a spreadsheet to track the costs and set aside a contingency budget for anything along the way you may of missed or for any emergencies.
Lak & Rajan, High Rated Drummers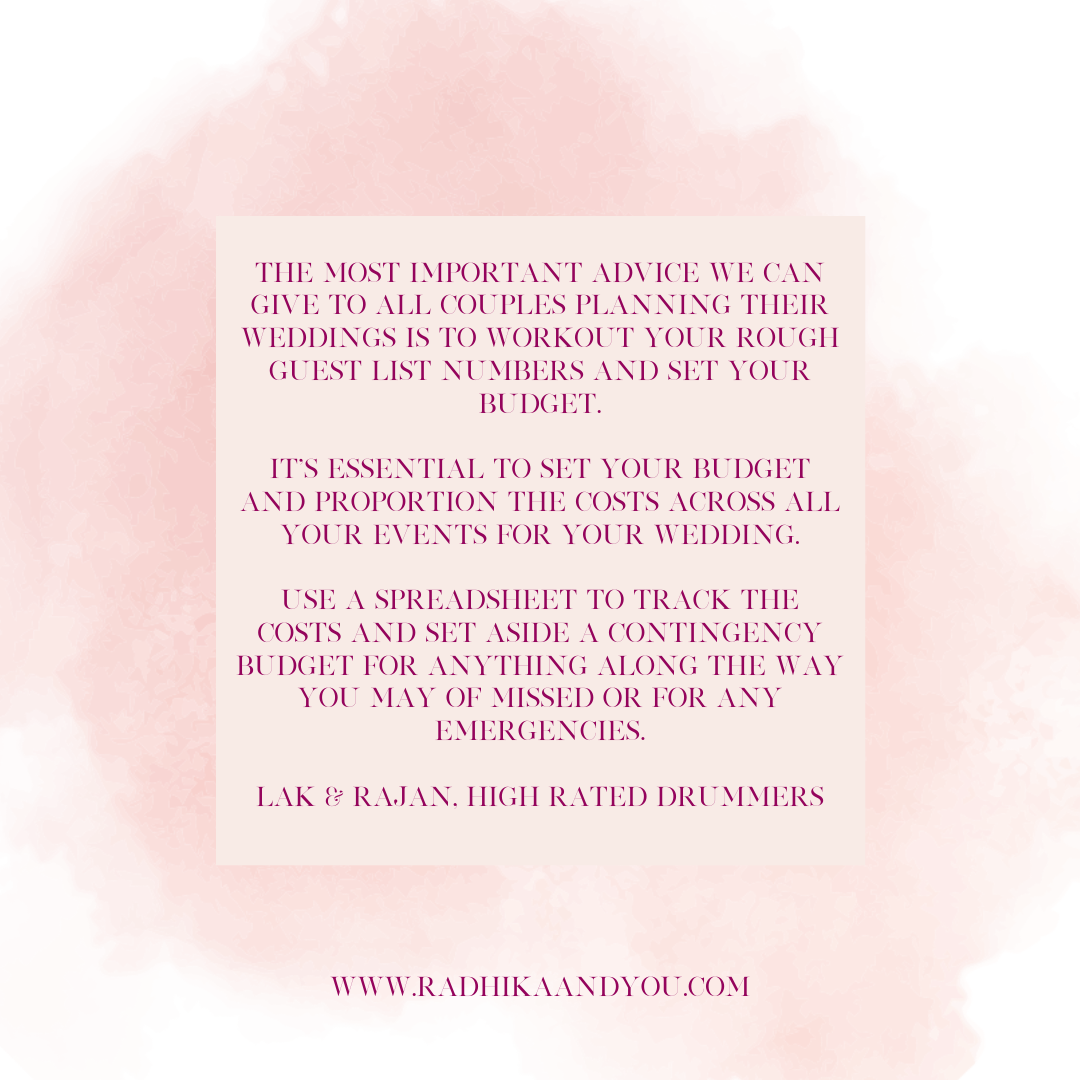 21. Start early, get your date set and your suppliers booked in to ensure you have the best in the business. Too many couples attempt to book us too late in the year when our dates are already booked. Early bird catches the worm!
Jack, Breeze Bars & Events
22. Get a wedding planner! This will help you immensely in securing the best available suppliers and will reduce the amount of stress wedding planning can bring.
Consider weekday weddings if your wedding date isn't available. 2021, will be full of weddings that were postponed and venues may have more flexibility over weekdays.
Bhavna, Bhavna Barratt Photography
IN OUR NEXT BLOG WE WILL BE SHARING TOP TIPS FROM THE WEDDING INDUSTRY ON STAYING POSITIVE AND YOUR MENTAL HEALTH DURING THESE CURRENT TIMES!