19 top tips from wedding industry suppliers for couples who have postponed their wedding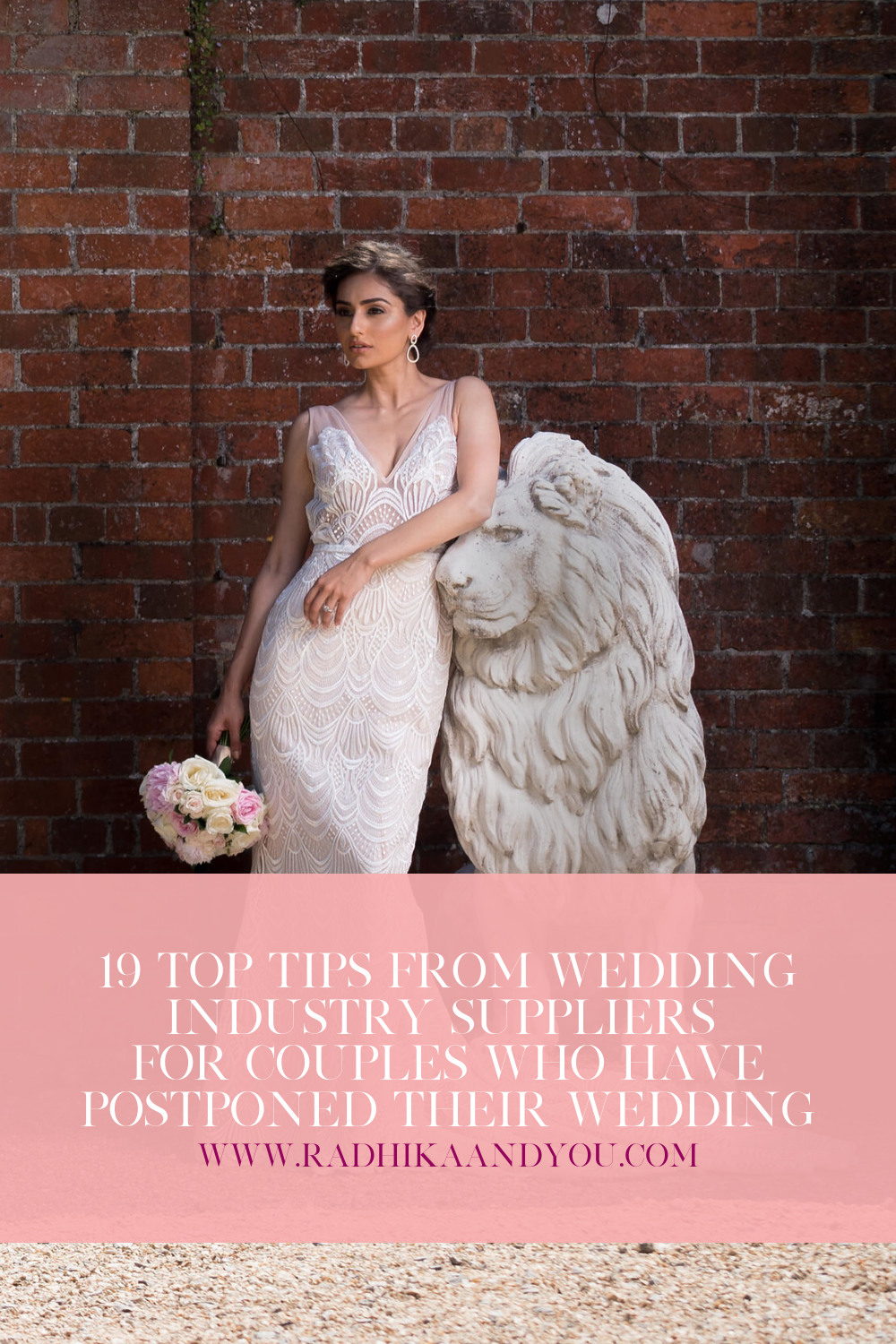 Since things came to a halt in the world due to Coronavirus, we have been sharing advice and our top tips on our blog and social media, however, we wanted to call upon some of our UK wedding industry friends to share their top tips for couples and other wedding businesses.
In the next 5 blogs over the coming weeks, we will be covering top tips from the wedding industry on postponements, starting the wedding planning process, mental health, positivity and business tips.
In this blog we feature 19 top tips from our industry friends on postponements:
1. Taking the decision to postpone your wedding is understandably heartbreaking, however it is important to remember that your celebrations will be well worth the wait. In difficult times like this we realise just how precious life is, and special events like weddings will take on a whole new level of importance.
For couples that are considering postponing their wedding, I would suggest touching base with your venue(s) first to get 2-3 date options if possible. Then make sure you touch base with your key suppliers to check their availability before confirming the new date with your venue.
Many of our clients have moved their 2020 weekend wedding to a weekday in 2021 which ensures that they can get as many of their original suppliers on board as possible. Once life is back on track, I am sure that your guests will appreciate taking time off work to party with you during the week.
Adam, The Wedding Filmmakers
2. Keep guests in the loop with information on the new date and stay positive. This gives you that little bit more extra time to perfect your Sangeet dance routine!
Remember it will all work out just how it's supposed to. Speak to all your suppliers, work out a plan B and keep faith. What a story it will be to tell your grandkids!
Amee, Wed in Style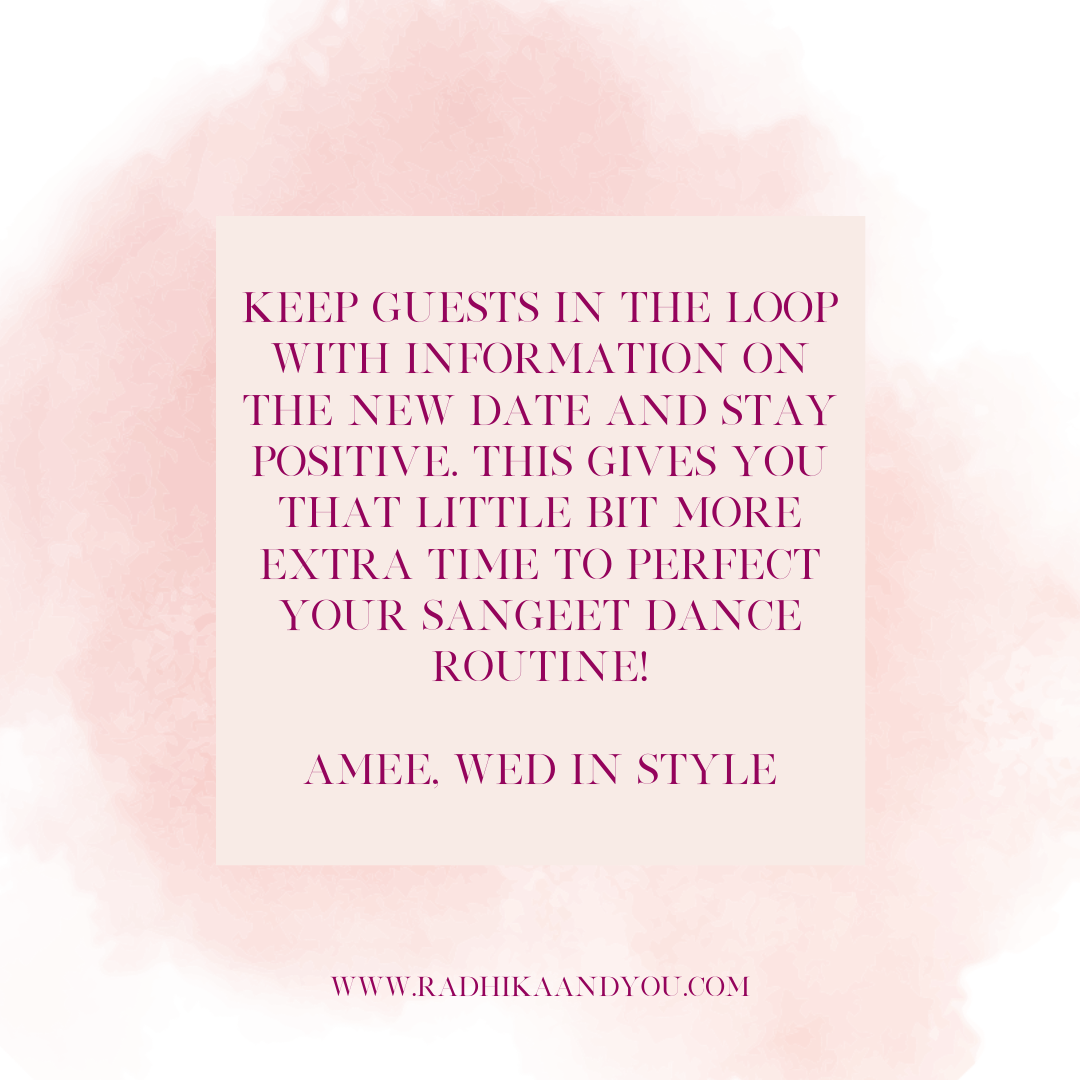 3. Try and pay minimal deposits and review things after things calm down but get the best suppliers in and build up the great relationships you need.
Pritpal, Ritzy Productions
4. Couples who are postponing – Stay positive, work with your suppliers to find a new date so you can all work together, which will avoid you having to plan a second wedding. It's a difficult time not only for the couple but for suppliers too, think back to why you booked them in the first place and remember they will put all their effort into bringing your dream day together.
Jaineesha, Jaineesha Make-Up Artist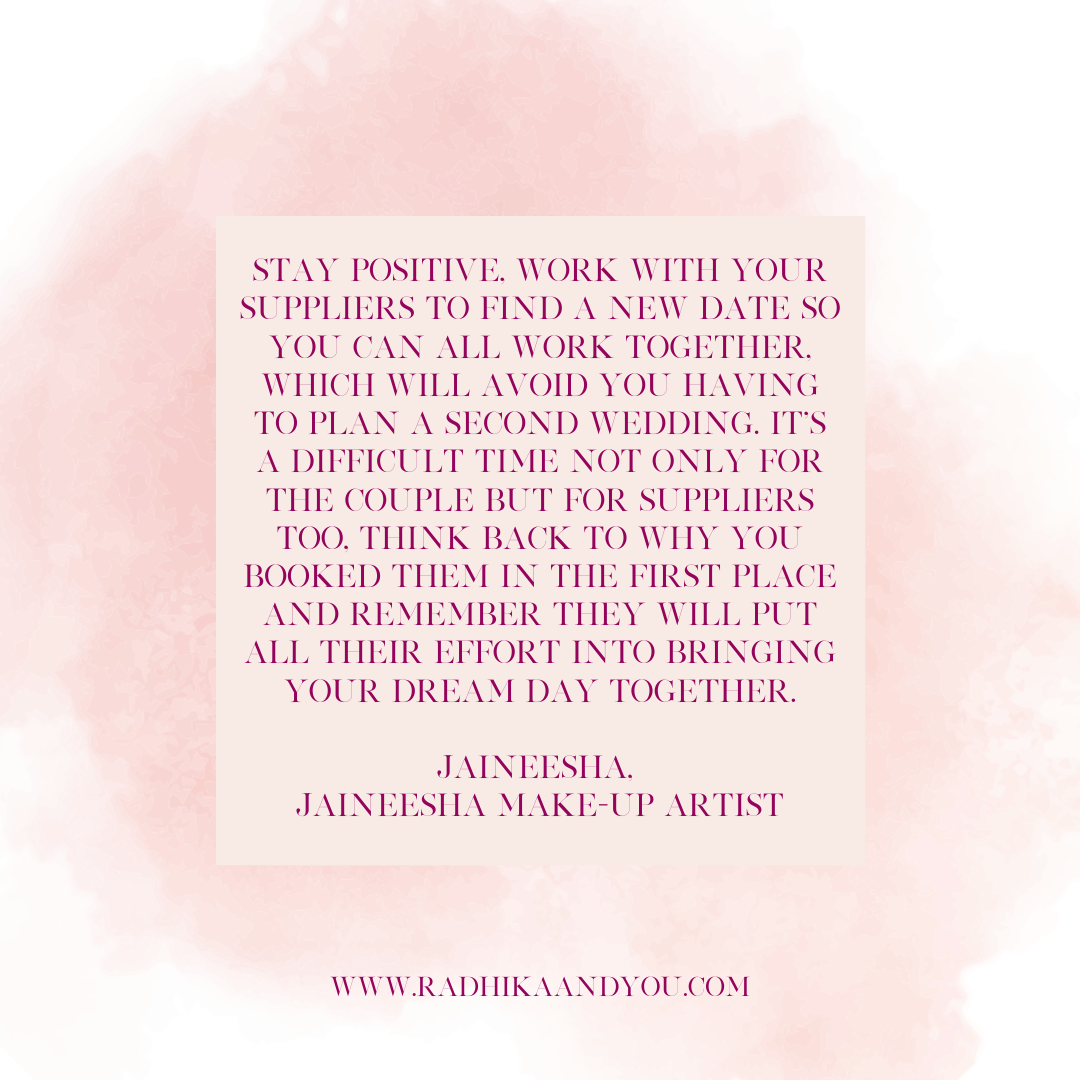 5. Do not wait unless you are planning to have your wedding in 2022. There are hundreds of couples also looking for the same date, so getting the right supplier booked for your event can be really tricky. When postponing your wedding, speak to your suppliers and the venue now. There is nothing wrong with a weekday wedding, especially when it guarantees having all your original suppliers.
Denis, Denee Motion
6. Ask the venue (or caterer) to hold your new date(s) until you have spoken to the rest of your suppliers to confirm the changes. Don't feel rushed in making decisions. It's still your big day after all and the details should be right irrespective of this current hurdle. Take on a wedding planner if the pressure is mounting up and you are able to budget for this.
Tina, Sugar Box Events
7. We all have a vision and idea of how we'd like our wedding to be. I totally get it – I had the same too. A gorgeous, summer wedding outdoors this year. But the dates hadn't worked out, and I decided upon a winter wedding. Just because the setting changes, doesn't mean it can't still be beautiful; you can still have your DREAM wedding. Winter gives the chance to use lots of candles, and those beautiful deep floral colours that are so romantic. Speak with your suppliers and re-design a few things to make an autumn/ winter wedding just as magical if you're postponing.
Neha, Wedding Touch UK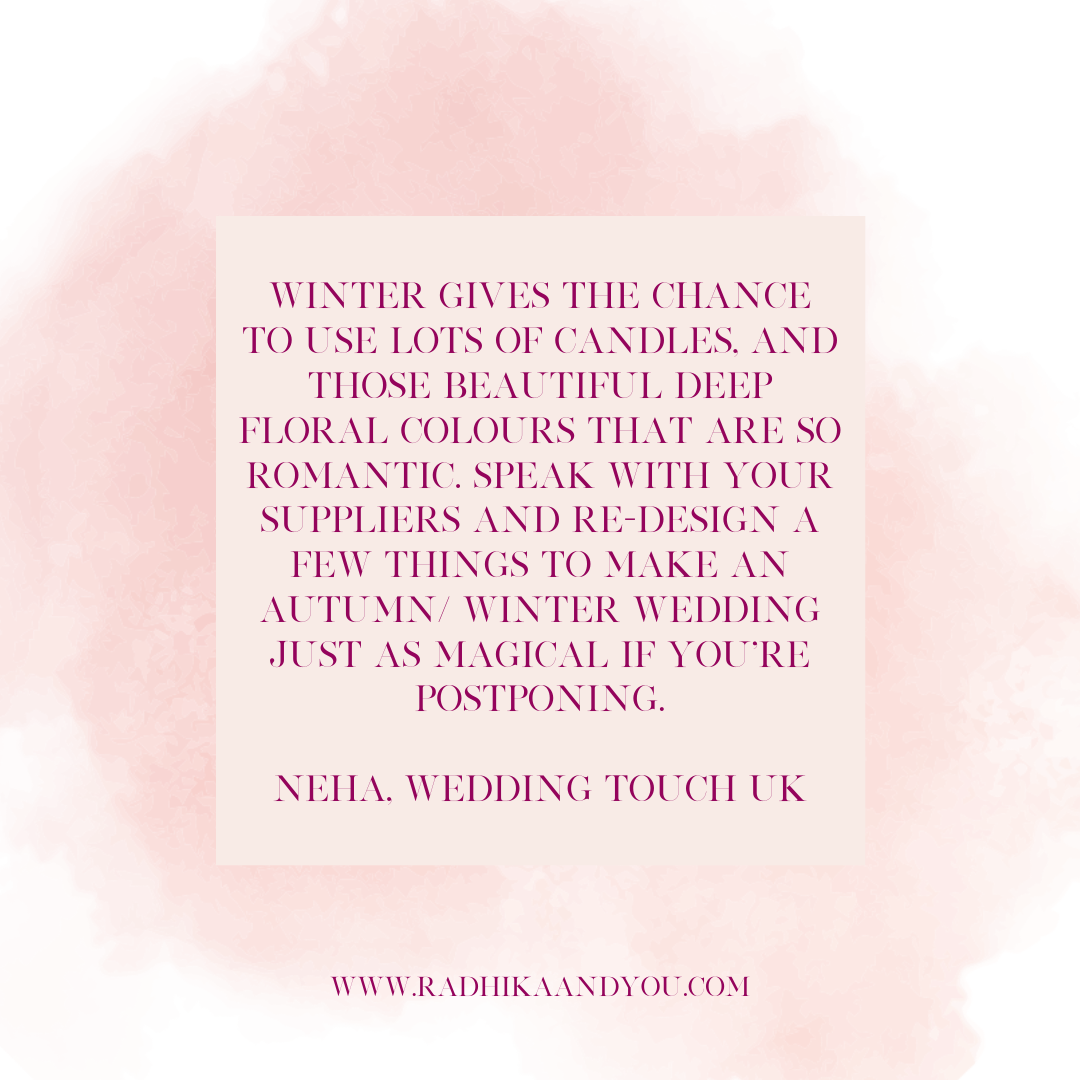 8. As a wedding photographer, I am asking my couples to pause or postpone the wedding celebrations and not cancel. Cancellations have a much bigger effect on the wedding industry, most of whom are self employed and rely on the cash flow.
Bhavna, Bhavna Barratt Photography
9. To those postponing, speak to your vendors before you rebook your dates! Make sure your vendors are free so you can transfer your deposits over and don't lose out on deposits – but always have insurance just to cover your back.
Ganga, Ganga Make-up & Hair
10. When booking any suppliers going forward, we would recommend asking them what their policies are around Covid-19, so you have a full understanding of their stance on things and to avoid any misunderstandings.
Shindy, Encore Vision & Sound
11. To avoid the new date feeling like the 'fix' date and not the original date, send out some beautiful e-invite which you would be happy with and not just a what's app message. These could match the style of your original invitation or you could go with a completely new look to suit the time of year you are now having your wedding. The best part to digital, in the realms of invites for the Asian community, it's relatively new and so we can create amazing little details including animation! It could even include a video clip of you and your family!
Whichever design you use on the e-invite it can then easily be translated to other items on the actual day to bring it all through.
Nishma, Doves & Peacocks
12. A few of my couples were worried about not getting married at the same time of year and in a different season so felt they needed to change the whole look or theme of their wedding.  If you are getting married at a different time of the year to your original date don't delete that Pinterest board quite yet! Just because the weather might be different outside does not mean you have to change everything inside! There is a reason you loved those colours or seasonal touches so it can be a case of just changing a few details. Adding a warmer tone to your flowers? Adding a different metallic element so swapping out silver for rose gold.  Try not to add more stress to the current situation by changing everything. Step back, reassess, talk to your florist for reassurance and ideas, chat to your stylist about what can be changed and also to your venue who may have garden games that you might want to use now you're marrying in the Summer and not in Autumn.
Kirsten, The Little Wedding Helper
13. I have always believed that everything happens for a reason and that God (if you believe in God) or a greater force has a better plan for us. I can empathise with the huge disappointment our brides would have experienced who have been planning their weddings for a minimum of 12-24 months. In a matter of days, they have seen all their meticulous plans grind to a halt and their weddings postponed months into the future. However, my overall feeling has been that the wedding industry as a whole has been open hearted and we worked with a couple to ensure all wedding plans go ahead but at a later date. The usual Ts and Cs have been overlooked and we're all trying to be as flexible as possible. The couple will get their magical day where they get to say "I Do" so for now I would suggest they just focus on organising all the little details that sometimes get missed as our couples lead such busy lives.
Shalini, Red Dot Jewels
14. When it rolls round to the day that you were going to be getting married, do something to celebrate on it, be that cooking a nice meal together or stream a theatre show, make a date night of it so that you don't feel down about the day. I've even seen people arranging virtual hen and stag dos to mark the occasion!
Amanda, Amanda Karen Photography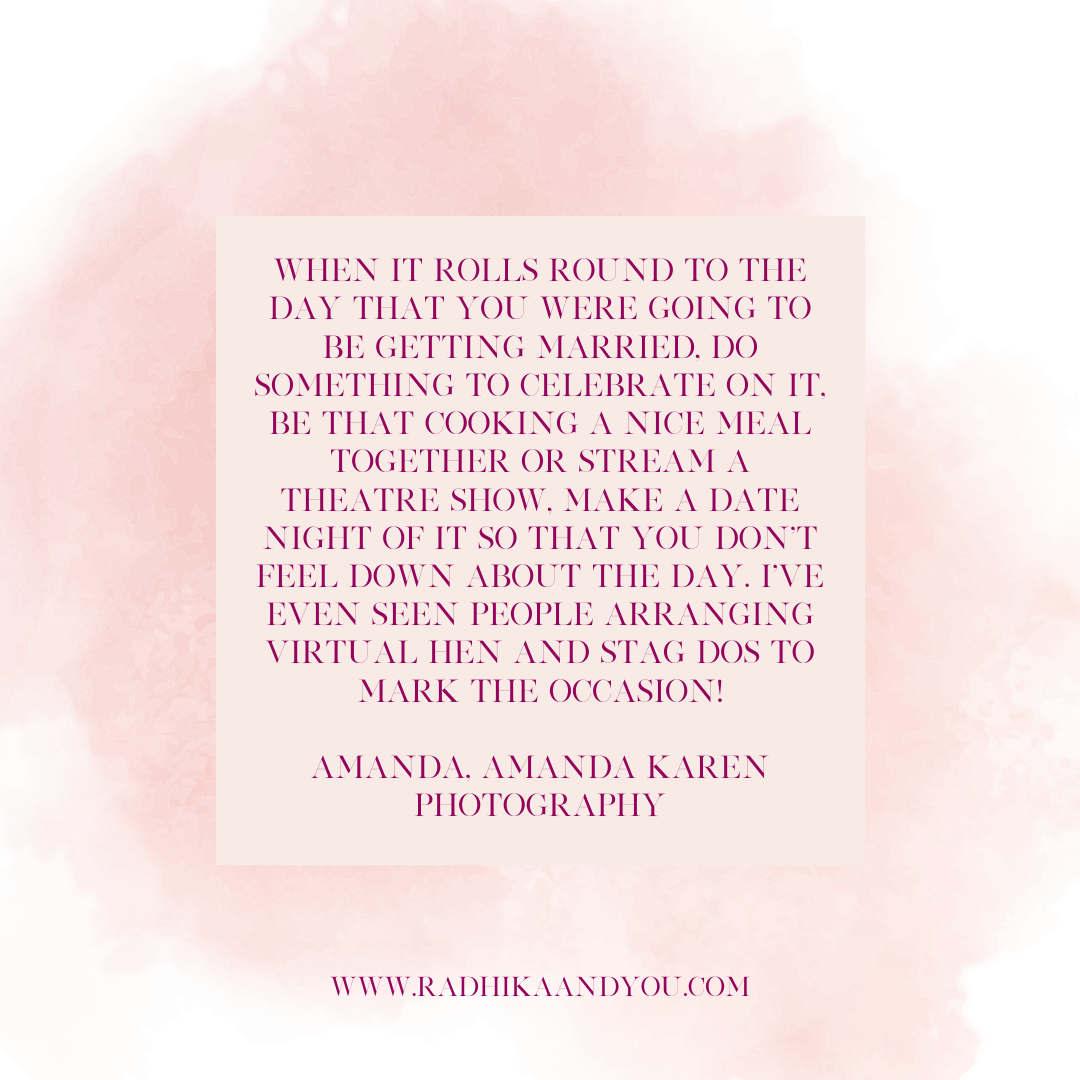 15. For those who have planned weddings for this year I think postponing is the most sensible option. We don't know when this is going to be over and more importantly, we don't want to put any loved ones at risk by going ahead with plans, therefore look at what you're doing as a positive step and use this time to re-organise. Stay in touch with your vendors, stay in touch with your guests and stay in touch with your families! Keep everyone in the loop and that way you and everyone else is prepared to party when you do announce your new date!
IQ, The VIP Studio
16. Do not dwell on it too much. If anything, this is how things were always meant to be!
Do not make any rushed decisions in a panic. Take your time, breathe, speak to all of your suppliers and understand how they can help you.
If you are feeling overwhelmed, remember that you are not alone and there are so many other couples also having to make difficult decisions and compromises with their wedding plans…you are not alone!
Enjoy the extra time you now have leading up to your wedding! More time for planning is always a good thing!
Hamna, Greenleaf Catering & Event Management
17. If your wedding has been postponed do not be disheartened. Why you may ask? This is something affecting many events, so don't take it personally!
Postponement gives you an opportunity to plan an even more spectacular event then was already planned and your spirits will be even higher looking forward to your special wedding day – your gratefulness exercises will ensure that when the event does take place that you feel truly blessed.
Right now, is a crucial time to start re-planning your event for next year as so many other couples will be racing to do the same thing plus there will be couples who always planned to get married in 2021! You have the time to contact all the suppliers you may have wanted to be a part of your special day. Use this time to start outlining how you want your event to be; starting from the guest list, the itinerary for the day down to the suppliers such as the decor, music, clothing, photography and video team, wedding planners, toastmaster, caterers and off course the venue.
Arjun, Arjun Desai Toastmaster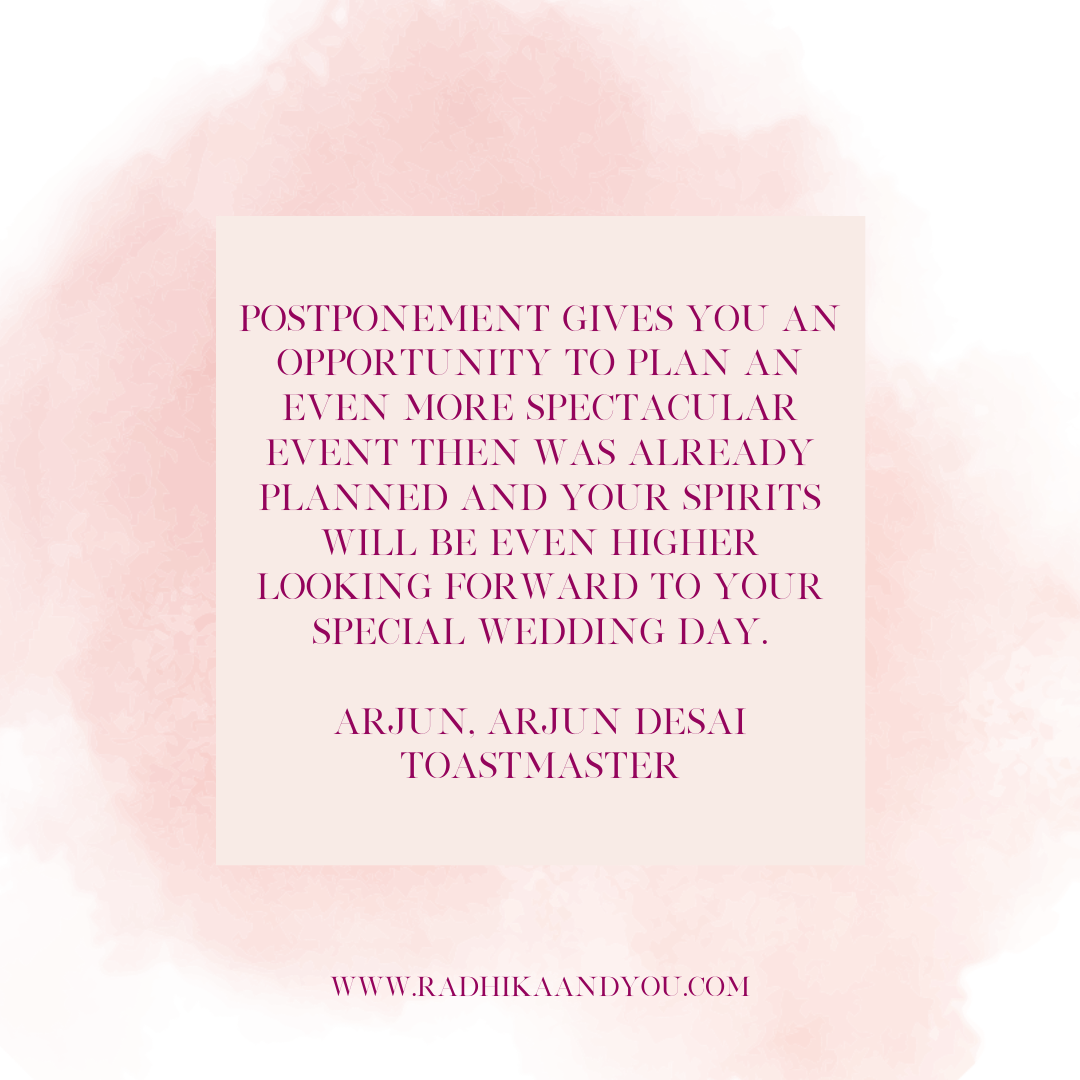 18. This is a temporary situation and we will come out stronger on the other side.  Love always wins – You will get married and it will be wonderful – Just as you planned!
Talk to your suppliers – caterer, florist and decorator, MUA, photographer and see what they can do for you in these challenging times. Suppliers will support you in everyday they can but if they don't then you can seek legal advice.
Seek legal advice and check your wedding insurance – you will need to give your insurance company the details of the new dates etc.
Also, manage your guests – tell them you are postponing and give them the new date. If anyone can't attend the wedding on the new date see if you can live stream the event or send them a little video of the event after it happens.
Sarita, Lux Occasions
19. Just in case your plans sadly do have to change, as a couple you can begin to weigh up what's most important to you both. Would you rather get married as soon as possible and stick to 2020? Would you rather get married soon regardless of the number of guests that are able to attend? Or perhaps you would rather wait and have that Spring or Summer wedding you always dreamed of? This is a very personal decision for everyone going through this and there are so many factors to consider, so it may help to begin these discussions and have a plan in place.
Preeti, Preeti Catering
IN OUR NEXT BLOG WE WILL BE SHARING TOP TIPS FROM THE WEDDING INDUSTRY ON STARTING TO PLAN YOUR WEDDING DURING THESE CURRENT TIMES!