18 top tips for wedding businesses on surviving through Covid-19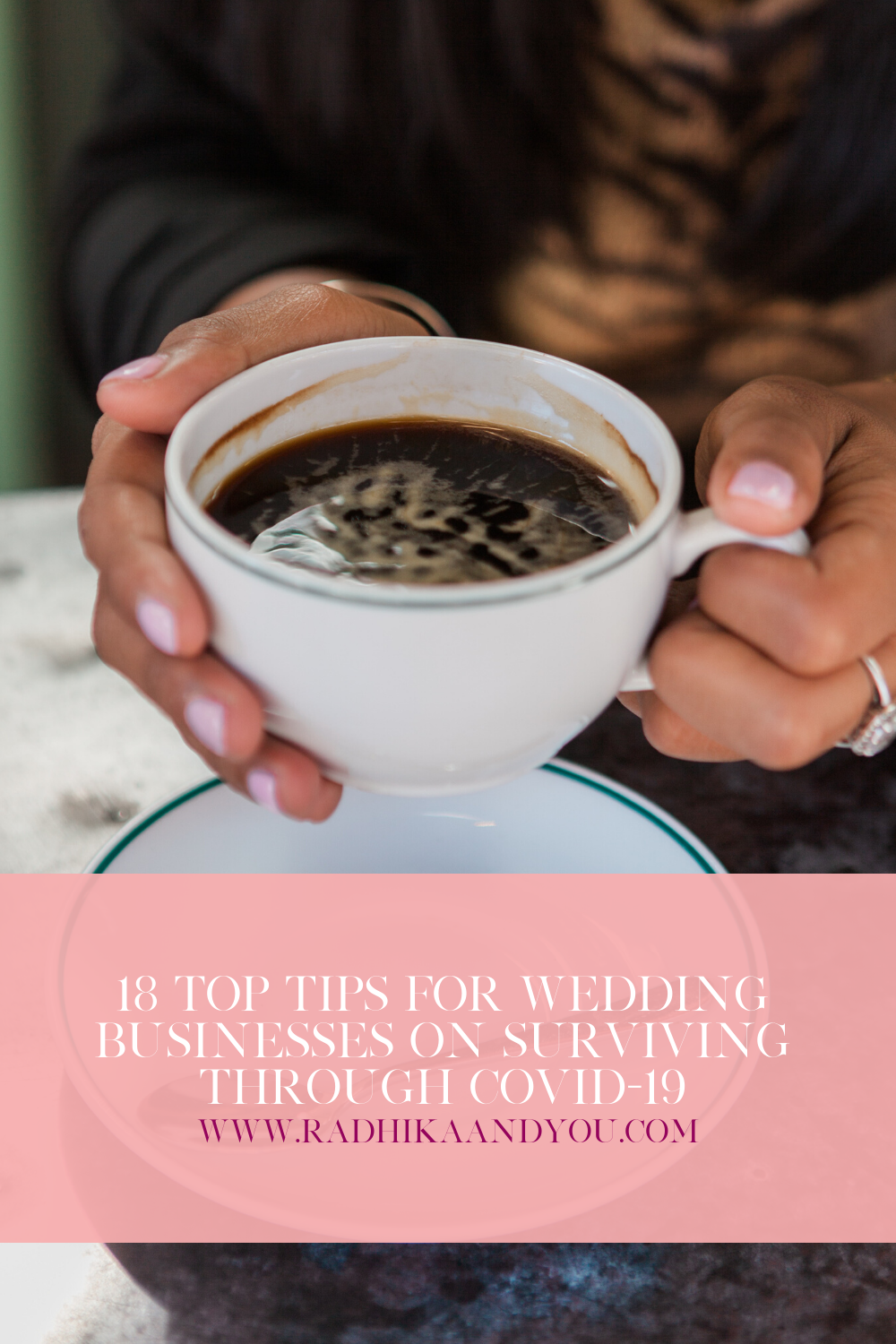 Running your own business, can be challenging in itself. From day to day admin, keeping your marketing activity in full flow, number crunching, HR management and so much more. In this blog we feature top tips from our industry friends on business tips for other industry colleagues on how to survive through Covid-19.
1. It's important that you understand you're not alone, It's a tough time for us all but this will eventually blow over. This is a great time to stop and reflect upon how we can better ourselves for the next round of events coming hopefully soon.
Stay active on social media for your audience/clients. It makes a difference to your future income.
Keep spending as much quality time with your loved ones as you can, as we all know the feeling of being so busy on the road that we start missing our friends/family!
Try to continue practising your craft while indoors, as they say practise makes perfect and perfection is an everlasting journey.
Gurkirat, Imperial Drummers
2. As a business owner the current situation has presented many different challenges and there is no escaping the huge impact that it has had on the events industry.
To keep motivated I have been trying to take as many positives from the situation as possible. It is a rare opportunity to spend time working on other aspects of the business that may have been put on the back-burner during busy times, for example updating our website/social media accounts. I have also been experimenting with new filming and editing techniques to stay inspired and to keep those creative juices flowing.
Sticking to a daily routine which involves exercise and spending time outside in the garden has also helped to keep my spirits up. Like most creative entrepreneurs who love their job I have a tendency to spend more time working than I probably should. This lockdown is a reminder of how fragile and precious life can be and that it is important to take time out for yourself and your loved ones.
Adam, The Wedding Filmmakers
3 Keep your head up, times are tough for us all at the moment but with this comes unity. We all have to stick together to get through this tough time and come out on top. Use this time to advertise your services, touch base with your clients and think of new ideas to keep you the top of your game. Stay safe!
Jack, Breeze Bar & Events
4. I think the most important thing at the moment is the ability to adapt and diversify where possible. We, at Denee Motion, have been offering our old client's various options, e.g. digitalising their ancient videos into online film galleries, sending our signature boxes with discs and USBs. We have also turned our focus towards corporate jobs for the time being. We are confident things will return to normal in 2021, so just trying to stay afloat and be there for our clients.
Denis, Denee Motion Boutique Films
5. Maintaining contact with all my couples as much as I can, this way we have even been able to celebrate virtually what would've been their original wedding date.
Keeping in touch with industry suppliers, zoom catch ups, skype calls and facetiming – this has been ace!
Updating my website, blogging and refreshing content, I'm still working on my business and mentally this has been a saviour.
Bhavna, Bhavna Barratt Photography
6. Motivation can definitely vary from day to day! I try and jot down just 3 things I want to achieve each day – business-related or personal. Gives a reason to get out of bed in the morning and a sense of purpose and achievement at the end of the day!
If it's possible, try and move to different parts of the house during the day to break the monotony – whether it's literally moving from the bedroom to the kitchen to the lounge!
Neha, Wedding Touch UK
7. I think it's important to keep in contact, share experiences and learn new skills that you could implement once we're on the other side of these uncertain times. We regularly catch up with our couples and suppliers over zoom and other measures to maintain the contact we would normally have if events were still going ahead. With all the date changes taking place it's important to help the couples find alternative suppliers if you are booked for their new date.
Sukh, Azure Bar Events
8. We've been trying to create some distinction between working and chilling, working only in one room that at "the end of the day" we can close the door, also means I'm not spending the whole of this time sitting on my sofa! The change of scenery within our house is good haha!
Amanda, Amanda Karen Photography
9. I have really looked at Red Dot Jewel's strengths and how we can navigate this tricky period. I am in touch with my team daily and we are all positive, learning online and sharing exciting ideas for what we want to do whilst we are in lockdown. We just had our first 2 Live sessions on Instagram and they were so much fun! Better still we are motivated and excited for our clients who will be able to see our new collections when we will be able to open our doors again.
Work on all those strategic plans for the business that we never get time to focus on as we are busy with the day to day rhythm of the business.
Shalini, Red Dot Jewels
10. As we have a lot of time on our hands at the moment, the effect of social media can cause havoc on one's mind. We're constantly looking at what other people are doing and thinking I wish I could have that or do that, which then takes us to thinking about if only and when, and that's where the negative thinking can come back.
If we are constantly focused on what other people have and their life style, you don't give yourself a chance to stay positively balanced in your own self. Be happy for other people and say to yourself that your time will come in your own way, as this will be a catalyst for yourself to be better at what you do and give you the drive and determination to be master of your craft in whatever that may be. We have technology at our finger tips these days use that to make yourself stand out in the way you want whether it's to plan your wedding, drive your business or develop skills to their greatest potential.
Arjun, Arjun Desai Toastmaster
11. We may be in a lockdown, but we do not have to lockdown our skillsets or interaction! Use this time to add to them. It could be encouraging yourself to do more lives on social media and making yourself ever present and visible, or it could be taking a photography, sales or graphics course to bolster your brand. Continue virtual networking and reach out to other suppliers you have not worked with before but who you can see could offer a different quality or aesthetic which your clients could benefit from.
Now is the time to really invest in yourself so that when lockdown is over, you really are ready to show up.
Payal, Calligraphy Payal
12. Keep strong and take the time out to develop the business, we all work up-to 18 hours a day in making sure our clients have the best experience of our services, this is the time to develop the skill and knowledge to enhance the business and become a better performer.
Amar, Brijwasi Events
13. This time will surly pass remember it's not permanent.
Have a good support network of people around you.
Catch up with everything on your to do list
Focus on new ideas products or new designs.
Stay visible on social media as much as you can
Set aside time for self-care, away from negative news stories and your overflowing inbox. Whether it's leaving the office for an hour for a walk, indulging in a bath or reading a book, make sure you take time out to recharge.
Sonal, Aurora's Collection
14. Contact all of your confirmed bookings and check in with the client for rearranging their date, if required. The quicker you act now, the better in the long run for planning your schedule/resources for the remaining part of the year and with next year's season.
Lak & Rajan, High Rated Drummers
15. Re-evaluate your cashflow and seek Government help for businesses should you need it
Evaluate your current processes, read up on all the advise provided by the Government on their website regarding how to deal with postponements and cancellations.
Speak to your network within the industry for advice.
Call your clients to reassure the that you are here to work with them and inform them of the processes you have put in place
Use this opportunity to evaluate your business structure and update your website.
Liaise with and create new networks within the industry with the aim to increase referrals.
Use social media to promote your business – stay true to the ethos of your business!  Showing what you are cooking when you specialise in Décor is not going to drive clients to your platform for the right reasons!
Step up your game – there are many online courses for social media, marketing, sales techniques that are available that you can implement into your business to propel you to the next level.
A reset button has been pressed and use this opportunity with positivity as we may not see the next wedding take place until another 6 months!
Kiran, Cake Boulevard
16. Keep to a schedule and get dressed even if you have to work from home – little things can make a huge difference to how we feel throughout the day
AJ, KAT Films
17. Create on online presence for your product/service, if you haven't already, as now is the time to do so.
Pivot your business into other avenues you wouldn't normally look into.
Use the time we have on our hands now to our advantage and put in the effort now so we can grow, and come out of covid-19 stronger.
Smita, Goenka Jewels
18. Keep calm!
We recommend working closely with the client and providing them with flexible solutions on postponing their event.
It's worth deferring payments for clients who are stuck given the current circumstances.
Hamna & Sammir, Greenleaf Catering
IN OUR NEXT BLOG WE WILL BE SHARING A SPECIAL EXTRA INSIGHTS FEATURE TO FINISH OFF OUR TOP TIPS SERIES FROM SUPPLIERS IN INDUSTRY!